Teen mistook shark for dolphin before savage attack (GRAPHIC PHOTOS)
Published time: 4 Apr, 2017 15:48
Edited time: 5 Apr, 2017 10:09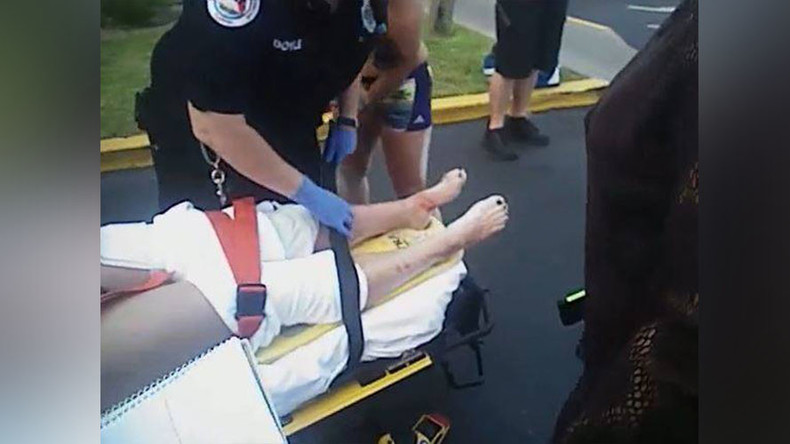 A teenager fended off a potentially deadly shark by punching it as she came under attack while swimming off the coast of Destin, Florida.
Caitlyn Taylor, 17, from Louisville, Kentucky, sustained six puncture wounds from a shark bite to her leg "but was able to punch the shark as it was biting her to try to drive it away," according to a statement from the Okaloosa County Sheriff's Office.
READ MORE: Sharknado? Man-eater washes up in Cyclone Debbie (VIDEO, PHOTOS)
The teen was visiting Florida with her high school softball team for spring break at the time of the attack. Taylor was swimming in waist-deep water in the Gulf of Mexico when she noticed the 5ft-long (1.5 meter) shark – which she initially mistook for a dolphin.
Beyond lucky to be alive and well and thank you to everyone for the support and wishes and I'm going to be okay, love you guys❤❤❤ pic.twitter.com/wm6wVryVzw

— Caitlyn Taylor (@cbt212) April 3, 2017
READ MORE: Photobombed by a great white: Menacing shark tracks child surfer (PHOTO)
"Caitlyn says she initially thought it was a dolphin in the water. It was in a wave headed towards her. She says it took her by the legs, tugged on her, and immediately turned her lose," police said afterwards.
Taylor suffered lacerations to her hand and legs, requiring "120 to 140" stitches according to Tracey Taylor, Caitlyn's mother. It is not known what species of shark was responsible the attack.
it was such a traumatizing event out there and i'm so lucky to still have my sister who is so strong and a such a fighter 💗 https://t.co/2Jlac8ZP56

— paige taylor (@pdt802) April 3, 2017