'Inducing panic': ACLU demands Ohio city stop charging drug overdose survivors
Published time: 29 Mar, 2017 03:01
Edited time: 29 Mar, 2017 09:14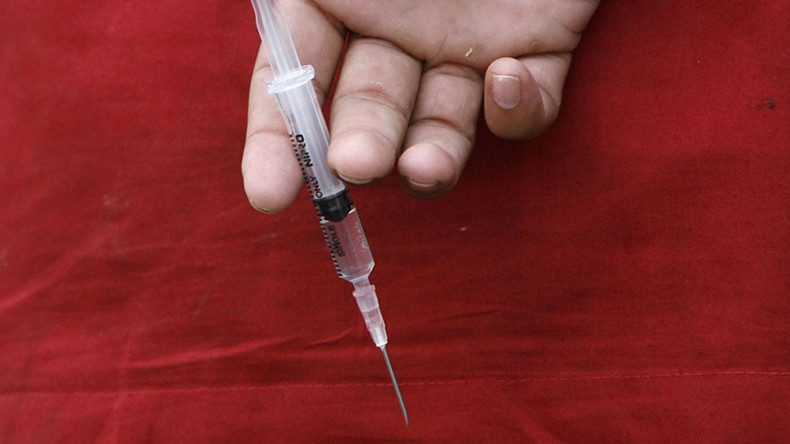 The ACLU is calling on a city in Ohio to stop criminally prosecuting those who outlive drug overdoses under the "inducing panic" law. They argue that the law only discourages individuals from calling for help.
The American Civil Liberties Union of Ohio sent a letter to the City of Washington Court House on Tuesday, urging officials to end the practice of charging those treated for overdosing on heroin by Emergency Medical Services (EMS).
In February, police in Fayette County began charging individuals under Ohio's "inducing panic" law if responders were forced to revive them with Naloxone, an "opioid antagonist" used to counter the effects of opioid overdose. Under the law, anyone treated for a drug overdose by EMS is cited with "caus[ing] serious public inconvenience or alarm."
At the time, Fayette County reported that they responded to 30 overdoses, resulting in six deaths in a 10-day period.
The survivors would face first-degree misdemeanor charges, punishable by up to 180 days in jail and a $1,000 fine. City officials say they adopted the policy in order to track overdose victims and offer to help them.
"It gives us the ability to keep an eye on them, to offer them assistance and to know who has overdosed. Sometimes we can't even track who has overdosed," City Attorney Mark Pitstick said, according to WWMT. "We are trying everything we can do. It's an epidemic."
However, the ACLU argues that the policy will have the opposite effect.
"Funneling at-risk people into the criminal justice system because they relied upon emergency help during a medical crisis is not the answer. In fact, it may lead to even more tragic consequences," Freda Levenson, ACLU legal director, and Elizabeth Bonham, a staff attorney, said in the letter.
The non-profit argues that the city is not addressing the fundamental causes of addiction or how to prevent recidivism. Additionally, individuals may refrain from calling for help if there is a possibility their loved ones could face criminal charges and fines.
The letter also argues the way the Washington Court House is applying the statute is illegal since it "turn[s] emergency need for medical assistance into a criminal act." They argue that any time a law enforcement officer or EMS is called, it could constitute criminal "inconvenience or alarm."
According to the ACLU, at least 12 people have been charged under this law so far.
In a press release from the ACLU, staff attorney Elizabeth Bonham called the law "dangerous."
"We cannot punish our way out of this opioid crisis. Charging victims of overdose with a crime is a perfect example of how not to deal with our opioid problem in Ohio," Bonham said.