Red states eye Obamacare's Medicaid expansion after GOP bill failure
Published time: 29 Mar, 2017 00:53
Edited time: 29 Mar, 2017 15:50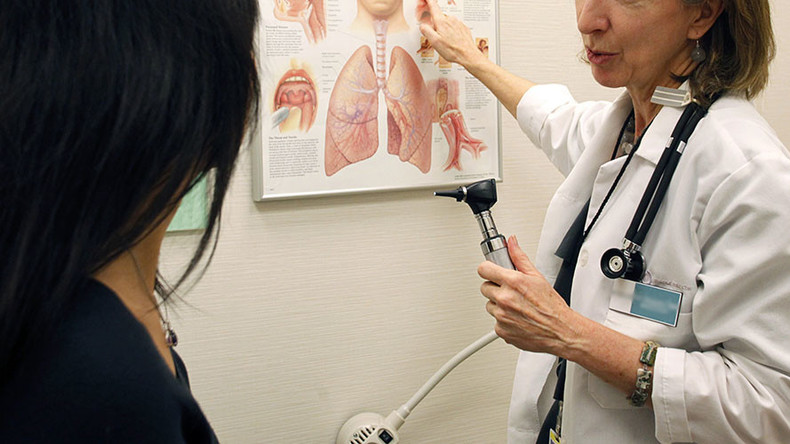 With the failure of the House Republicans' attempt to repeal and replace Obamacare, several GOP-led states are reconsidering their decisions to opt out of the Medicaid expansion.
Starting in 2014, the Affordable Care Act (ACA, commonly known as Obamacare) expanded Medicaid to everyone making less than 138 percent of the Federal Poverty Level, covering 11 million more people in 31 states where the federal government pays 100 percent of the cost of the expansion through 2018 and 90 percent through 2020. The remaining 19 states opted out of the expansion.
The American Health Care Act (AHCA) would have phased out that expansion, and a so-called "manager's amendment" would have taken aim at two states — Kansas and North Carolina — that were considering expanding the program.
Last Friday, however, the Republican leadership pulled the AHCA from the House floor ahead of a scheduled vote, with House Speaker Paul Ryan (R-Wisconsin) later saying, "Obamacare is the law of the land."
Since then, Medicaid expansion has seen new interest from states that had not previously participated, including several deep-red ones.
"There is now a motivation to many of those states who were on the fence to take it," Diane Rowland, executive vice president of the Henry J. Kaiser Family Foundation, told the Huffington Post. "They could cover a lot of low-income people with a lot of federal money."
When asked about President Donald Trump's views on the potential Medicaid expansions in states like Kansas, Maine and Virginia, White House press secretary Sean Spicer said they would have been better off under the AHCA because "the able-bodied provision" is "leading to an implosion on that piece of the entitlement," and because it would have given authority "back to the states to best determine how to handle issues within their states, both in terms of high-risk pools and individuals that they wanted to cover."
The Trump administration may be more willing to give states waivers from standard Medicaid rules, as Arkansas and Indiana did under President Barack Obama, which might include things like a work requirement, Rowland said.
Kansas
On Tuesday, the Kansas Senate voted 25 to 14 to expand Medicaid in the state; the House passed the measure last week. Currently, 31 of the state's 107 hospitals are financially vulnerable due to the number of uninsured Kansans; about 150,000 more of whom would be added to its Medicaid rolls if the bill becomes law.
"We have to consider those 31 at-risk hospitals that we ask everyday to absorb costs from uninsured patients because they do not have access to affordable health insurance. If we continue to let this condition continue, we're likely to see more hospitals close in the rural parts of the state and that would be a true travesty," Republican state Senator Randall Hardy said during debate on Monday, according to the Topeka Capital-Journal.
Governor Sam Brownback (R-Kansas) isn't convinced, however, and has said he will veto the bill.
"To expand ObamaCare when the program is in a death spiral is not responsible policy," Melika Willoughby, Brownback's spokeswoman, said in a statement.
The votes to pass the Medicaid expansion tallied just shy of the two-thirds majority the legislature would need to override the governor's veto.
North Carolina
In the Tar Heel State, Democratic Governor Roy Cooper has been butting heads with the Republican-led legislature since before he was sworn into office in January. One front in the war is pushing for Medicaid expansion. His first budget proposal, introduced at the beginning of March, calls for hospitals to pick up the cost of any administrative fees as well as 5 percent of the cost of care for the nearly 625,000 expected new beneficiaries.
Cooper has cited red states like Indiana and Ohio, where the original Medicaid expansion under Obamacare has been declared "beneficial,"according to North Carolina Health News.
"Republican governors all over this country have decided this is a fiscal issue," Cooper said. "They were able to work deals that would help their states, they were able to work deals where they could put in requirements for work. I'm willing to do all those things."
Maine
In November, Mainers will vote on whether or not to expand MaineCare, which is more than 90 percent funded by federal Medicaid dollars, according to the Kennebec Journal. The Pine Tree State will become the first state to have its residents, rather than its legislature, vote on such an expansion. Maine was the only state in the northeast to reject ACA funding, thanks to vetoes by controversial Governor Paul LePage, a Republican.
LePage has called for ending Medicaid expansion for non-disabled adults and giving states block grants and more leeway in determining eligibility and defining benefits, which were included in the House Republicans' plan, Bangor Daily News reported. However, rural Maine was set to have been hit hard had the bill passed, according to the Congressional Budget Office.
Virginia
Democratic Governor Terry McAuliffe, in the last year of his term, has tried for three years to convince the Republican-controlled legislature to expand Medicaid, which his administration says could cover an additional 400,000 Virginians. On Monday, McAuliffe proposed an amendment to the budget that would give him power to do exactly that.
"We have worked on this for many years. I would ask... that we do the common-sense thing to bring this money back to care for our citizens," McAuliffe said. "There are no excuses anymore."
The legislature is expected to reject the argument, arguing that there is no guarantee that the federal government will continue reimbursing states for expanded Medicaid coverage beyond 2020, potentially forcing Virginia to cover hundreds of millions of dollars in costs, the Washington Post reported.
"The lack of action in Washington has not changed that and in fact, the uncertainty of federal health policy underscores the need to be cautious over the long term," Republican leaders in the House of Delegates said in a statement. "Virginians can barely afford our current program, much less an expansion. Every federal dollar not spent on expanding a broken program is a dollar not borrowed from future generations."
Georgia
Republican Governor Nathan Deal announced Monday that his administration is exploring changes to the Peach State's Medicaid program. He plans to meet with Health and Human Services Secretary Tom Price, a former US representative from Georgia, to discuss the state's options under Obamacare's "mandated minimum coverage" provisions.
"We will be looking at those possibilities," Deal said at a press conference. "We have not formulated any proposal at this time, but the waivers will be primarily restricted to our Medicaid program."
The Georgia legislature is unlikely to tackle any changes to Medicaid this year, as lawmakers wrap up their session this week, according to the Atlanta Journal Constitution.