'Rendezvous with destiny': House GOP pushes healthcare vote after Trump intervention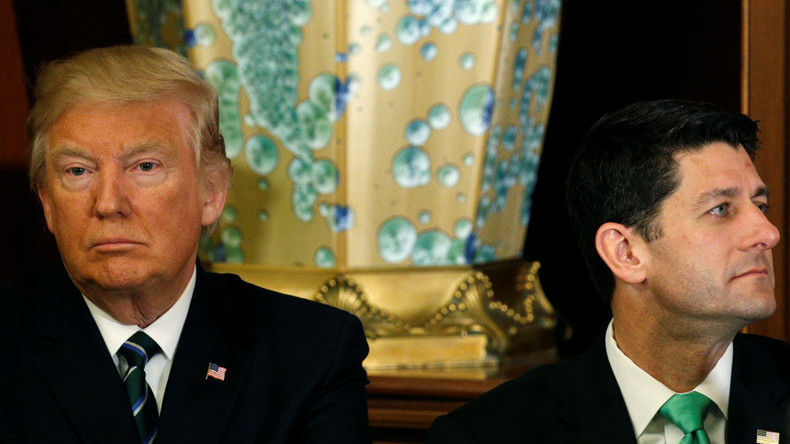 The vote to repeal Obamacare will take place this week, the House Republican leadership has announced after meeting with President Donald Trump, seeking to dispel rumors of opposition within the ranks and brushing off criticism from Democrats.
"Seven years of this failed experiment is enough," Speaker of the House Paul Ryan (R-Wisconsin) announced on Tuesday, telling reporters that the Trump administration and the GOP are "all in" on repealing and replacing the previous administration's sweeping healthcare mandate.
Trump met with the House Republicans on Tuesday and told them that failing to pass the healthcare reform could cost many of them their seats in the 2018 midterm election, The Hill reported, citing a source inside the meeting who wished to remain anonymous.
Trump was there "to do what he does best, and that is to close the deal," Ryan said afterward.
"The president just came here and knocked the ball out of the park," and explained to the representatives "what kind of rendezvous with destiny we have here," Ryan told reporters.
House Majority Leader Kevin McCarthy (R-California) explained that the repeal will proceed in phases, with the first applying federal anti-trust scrutiny to insurers, and the second allowing small businesses to pool their resources across state lines.
"Thursday will be a big day," McCarthy said, offering a clue to the vote's timing, though Republican Conference Chair Cathy McMorris Rodgers (R-Washington) chose to use the phrase "this week" instead.
Majority Whip Steve Scalise (R-Louisiana) called the Obamacare repeal a "rescue mission" to help some 14 million Americans who would choose to leave the mandate if they had the option, according to the Congressional Budget Office estimates.
Ryan explained that the repeal is structured to use the tools at the lawmakers' disposal, beginning with budget reconciliation, and that it is necessary in order to proceed with tax reform plans later in the year.
On Monday, the GOP introduced two amendments to the American Health Care Act, tackling a number of Medicaid issues and repealing many Obamacare tax hikes. The amendments are supposed to make it easier for the bill to be adopted in the Senate.
Democrats have criticized the GOP proposal, arguing it will cause millions to lose health insurance and hurt the elderly, the poor and working families. Some of the Republicans have criticized the plan for not going far enough. Ryan assured reporters that the party was on board, however.
"We made a promise to repeal and replace this law, and we are going to keep our word," he said.