'It is goodbye, America' for me: Israeli historian tells RT Trump's travel ban creates 'chaos'
Published time: 27 Mar, 2017 16:35
Edited time: 28 Mar, 2017 10:57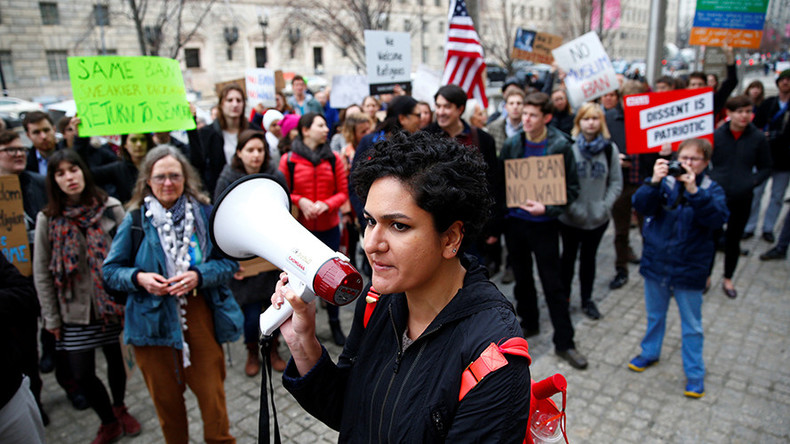 President Donald Trump's immigration policy is chaotic and confusing, a preeminent Israeli military historian tells RT. Martin Van Creveld says he cheered for Trump's victory, but is now having second thoughts.
Van Creveld, professor emeritus at the Hebrew University in Jerusalem, is a renowned author of numerous books on military history and strategy, including The Transformation of War (1991), The Rise and Decline of the State (1999), and A History of Strategy: From Sun Tzu to William S. Lind (2015). He shared some of his observations with RT America via email.
RT: Trump's second travel ban was held up in court under a lawsuit filed by Democratic attorneys-general from seven states, who argued that banning people of a particular religion from entry is unconstitutional discrimination. A separate Hawaii lawsuit invoked the "right to associate with family members overseas" and the state's "sovereign interest… in welcoming persons from all nations around the world into the fabric of its society." What are your thoughts on the ban and who do you think is likely to eventually prevail?
MVC: I am not a lawyer and I am not familiar with the intricacies of US law. Let me say that I rooted for Donald Trump; his victory over Hillary Clinton, that mainstay and symbol of political correctness, made me very happy. Now that two months have gone by since he entered office, though, I, along with countless others, am developing my doubts. The man seems to be firing in all directions at once, making one problematic decision after another, retracting it, and in many ways behaving like a troupe of disturbed children.
Trump's immigration "policy," supposing there is such a thing, provides an excellent example of all this. First he imposes a ban on people coming from seven countries. Then it turns out that he and his advisers had never thought of immigrants who already have visas or who, having cooperated with the US in Iraq, need to flee that country on pain of being killed. Next, no sooner did he issue his revised policy than it was again challenged in the courts.
So "prevail" is the wrong word. All I expect, at least in the short and medium run, is chaos. Chaos at airports where officials do not know who is and who is not allowed entry. Chaos at corporations, which do not know which workers they can import, and chaos for would be immigrants and visitors everywhere.
Let me add that, the last time my wife and I visited the US, we were held up for three hours at Dulles Airport, no reason given. I am an old man, but when I asked permission to go to the toilet, the female guard refused it. Only after I threatened to pee right in front of her did she relent. So for me, and quite some others, it is goodbye, America.
RT: In a 2015 essay on immigration and war, you wrote: "Unlike the people of the secularized West, Muslims take their religion, and the way of life it prescribes, seriously. As a consequence, they are much harder to integrate than other, more malleable, immigrants." (There Will Be War, Vol. X) Do you still stand by that assessment, and has anything that happened since tempted you to change your mind, one way or the other?
MVC: I certainly stand by that assessment. It seems to me that not a day goes by without it proving correct. In every country I read about, incidents take place almost daily. In every case, the background is formed by the kind of differences that [Samuel] Huntington so magisterially pointed out [in 1996's Clash of Civilizations and the Remaking of the World Order].
Conversely, the Moslem country that is truly tolerant in the Western sense of that word, the sense that started emerging when William of Orange established the first non-denominational university at Leiden back in 1576, has yet to be born.
So it seems to me that, in quite a number of places around the world, more conflict, more violence, and perhaps more war are in the cards.