House Intel chair orders Russia-Trump election hearings closed to public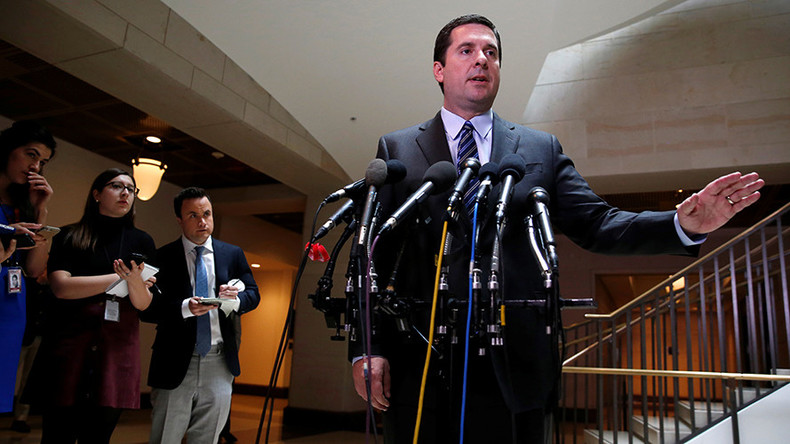 The Republican head of the House Intelligence Committee has nixed a public hearing on Russia's alleged involvement in the US election. The committee's top Democrat has called the decision a mistake, as the chairman's activities have come under scrutiny.
Representative Devin Nunes (R-California) said Friday that he cancelled the public hearing in favor of a closed-session meeting, possibly on March 28, involving the entire committee and the heads of the FBI and National Security Agency.
"The committee seeks additional information... that can only be addressed in closed session," Nunes said. The committee is in the midst of an investigation into any possible connections between Donald Trump's presidential campaign and Russia.
Rep. Adam Schiff (D-California), the ranking member on the committee, said his party does not agree with the decision and that Nunes, through his actions this week, has compromised the committee's ability to investigate any Trump-Russia ties.
"That was not in our view in the public interest and we resisted that," Schiff said Friday. "We strongly objected to the cancellation of this hearing."
The announcement comes as Nunes is embroiled in controversy after claiming on Wednesday that the communications of President-elect Donald Trump's transition team were "incidentally collected" by US intelligence surveillance operations of foreign entities. He then traveled to the White House to brief the president about the documents he had received.
Nunes, himself a member of Trump's transition team, addressed House Speaker Paul Ryan (R-Wisconsin) and reporters without consulting committee Democrats, eliciting strident denunciations from the Democratic Party.
"I think he has demonstrated that there is some question about his respect for the committee," House Minority Leader Nancy Pelosi (D-California) said Thursday. "I think he sent a signal that as a member of the Trump transition team himself, he probably should not be intricately involved in this investigation."
Despite the public announcement, Nunes said Thursday that he doesn't ultimately know if Trump transition members were surveilled.
Nevertheless, Trump said the revelations offered by Nunes "somewhat vindicated" the president's past assertions that his campaign was wiretapped by the Obama administration. On Monday, during a congressional hearing, FBI Director James Comey said Trump's wiretapping claims are baseless. However, Comey did say the agency was investigating possible Trump-Russia relations revolving around the election.
Nunes apologized to Democrats on Thursday during a committee meeting for excluding them from the revelations he announced one day prior, according to reports. Top Democrats and the Washington Post editorial board have called for an investigation into Nunes, while some Republicans have openly questioned if the Republican-led Congress has the credibility to lead the investigation.
Nunes has not explained how he got the information he publicly leaked on Wednesday. White House Press Secretary Sean Spicer said Friday during the daily press briefing that he was "not aware" of where Nunes got the documents.
Spicer can't rule out that someone at the White House gave Nunes the docs, says "I can't say anything more than I don't know." Truer words.. pic.twitter.com/Qb9rjGQXS0

— Tommy Christopher (@tommyxtopher) March 24, 2017
"I'm not aware of where he got the document from," Spicer said. "I don't know. I don't know where he got them from, he didn't state it."
Spicer added that "there has been an acknowledgement that there are documents out there showing that people were surveilled or monitored to some degree."
Trump tweeted out wiretapping claim without evidence, but now Spicer is urging folks to withhold judgement on Nunes surveillance claim?

— Kenneth P. Vogel (@kenvogel) March 24, 2017
On Sunday, Nunes said there was "no evidence of collusion" between Trump associates and Russia.
In a new poll, 66 percent of respondents said they wanted an independent commission to investigate any links between Trump's team and the Russian government. A similar majority said they were "very concerned" or "somewhat concerned" about Trump's ties to Russia.
You can share this story on social media: