House intel chair admits he doesn't know 'for sure' if Trump team was surveilled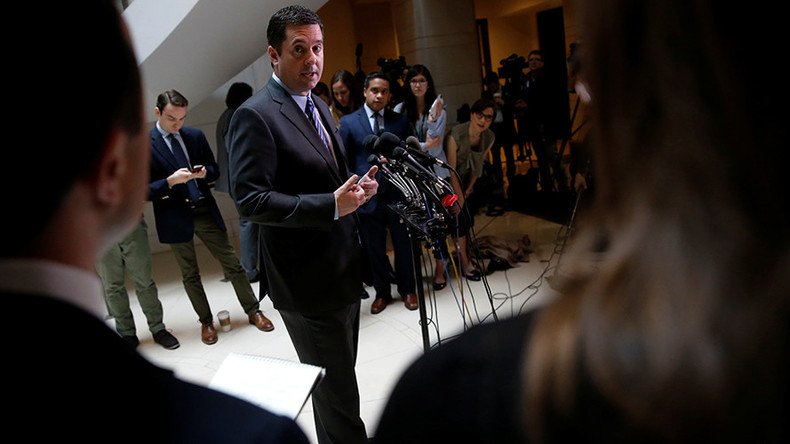 One day after announcing that he had found evidence that members of President Donald Trump's transition team were subjects of surveillance, the head of the House Intelligence Committee has reportedly apologized for those claims.
Congressman Devin Nunes (R-California) allegedly apologized to committee members during a closed-door meeting Thursday, explaining that he did not know "for sure" if the claims he made Wednesday were true, according to a spokesman, ABC News reported.
"He'll have to get all the documents he requested from the [intelligence community] about this before he knows for sure," Nunes' spokesman Jack Langer said.
NUNES tells me he can't show Dem ranking member Schiff any of the reports because Nunes/the committee doesn't have them in their possession

— Kasie Hunt (@kasie) March 22, 2017
In a statement to reporters Wednesday, Nunes had announced there were "dozens of reports" confirming members of Trump's transition had their communications "incidentally collected" by intelligence agencies.
Nunes said details about members of the Trump transition team were "were widely disseminated in the intelligence community" and called the findings a "significant" development.
A Republican House Intelligence Committee aide told Reuters that Nunes had apologized to Democrats on the panel during their regularly scheduled meeting.
"Yes, he apologized to the minority on the committee today for going public and to the [White House] with his announcement yesterday before sharing the information with the minority. He pledged to work with them on this issue and share information with them about it," the aide reportedly said.
After apologizing, Nunes said: "It was a judgment call on my part," according to the Associated Press.
"Sometimes you make the right decision, sometimes you make the wrong decision," he said.
Nunes, who served on Trump's transition team executive committee, was criticized by Democrats for bypassing his own committee to present his claims directly to Trump, who is currently under investigation.
A ranking member of the committee, Congressman Eric Swalwell (D-California) says that the members have not seen the material evidence in question.
"He should have brought the evidence that he had to our committee," Swalwell told CNN on Thursday. "He never should have taken it to the president, whose campaign is under federal criminal investigation right now."
Top Democrats are also calling for an investigation into Nunes, while some Republicans are questioning if Congress has the credibility to lead the investigation.
In an interview with MSNBC, Sen. John McCain (R-Arizona) called the situation "bizarre."
"I think that this back-and-forth and what the American people have found so far is that no longer does Congress have the credibility to handle this alone," the senator said.
You can share this story on social media: