NYPD filmed Occupy and BLM protests over 400 times without authorization – report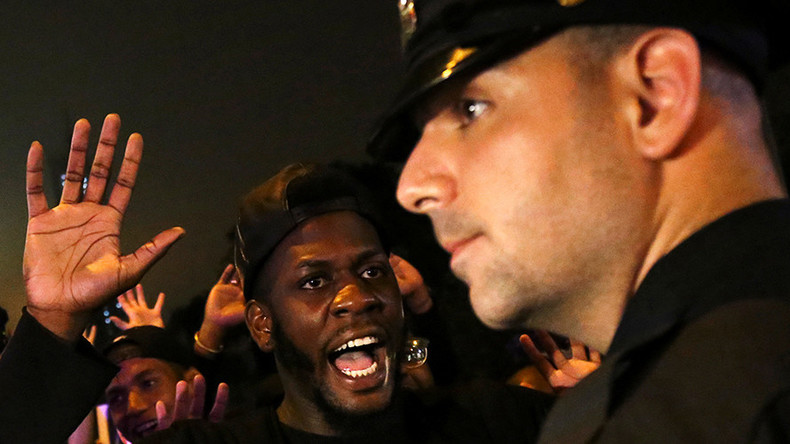 A Freedom of Information Act request has uncovered evidence that the New York City Police Department not only surveilled protests with recording devices, but was unable to prove they followed standard procedure in doing so.
NYPD's presence at various Occupy and Black Lives Matter protests has been contentious in some communities, even more so due to their use of videotaping activists. New York attorney David Thompson, of Stecklow & Thompson, filed a FOIA request and told the Verge that there was proof that the NYPD had filmed protesters over 400 times but was unable to find documentation showing that this surveillance was approved by NYPD higher-ups.
NYPD officers responsible for filming protesters are members of the Technical Assistance Response Unit (TARU), who often attend and occasionally film demonstrations. The purpose of this is to "ensure that there is an adult in the room," Thompson explained to the Verge. It is guided by Interim Order 22, which allows members of the TARU to film demonstrations if they file requests that are approved by their commanding officers.
"So while filming is meant to guarantee that there is an adult in the room, they are meant to be a legally trained adult in this case, who is able to understand whether or not the filming conforms to police guidelines or not."
When Thompson requested video surveillance records related to Black Lives Matter and Occupy Wall Street protests, he was able to discover that these demonstrations had been surveilled over 400 times. Unfortunately, not a single one came with documentation of approval.
Joseph Giacalone, a retired NYPD Detective Sergeant and professor at John Jay College's Law, Police Science and Criminal Justice Administration Department, explained to the Verge that the process as described by Interim Order 22 should leave plenty of proof of a paper trail.
NYPD must release all files about undercover spying on Black Lives Matter protests ‒ judge
"If an officer sends something to the legal bureau, it gets a number and gets recorded, then it's forwarded to whoever and gets another number," Giacalone explained. "No captain is going to take it upon himself to request a filming without any record because otherwise they're asking for a lot of trouble from the ACLU. So let's put it this way, those things shouldn't get lost."
Giacalone defended the practice of filming protesters, explaining that police involved in confrontation may "want to counter the social media narrative, because a lot of the clips you see on social media, may not show the whole story."
However, the lack of a paper trail has many concerned. New York City activist Elsa Waithe believes that recording may be meant to deter activists. "People are like, 'I don't know if I want to do this,'" she told Verge. "Just the sight of them with their cameras is enough to scare people. This is a fear tactic."