NYPD must release all files about undercover spying on Black Lives Matter protests ‒ judge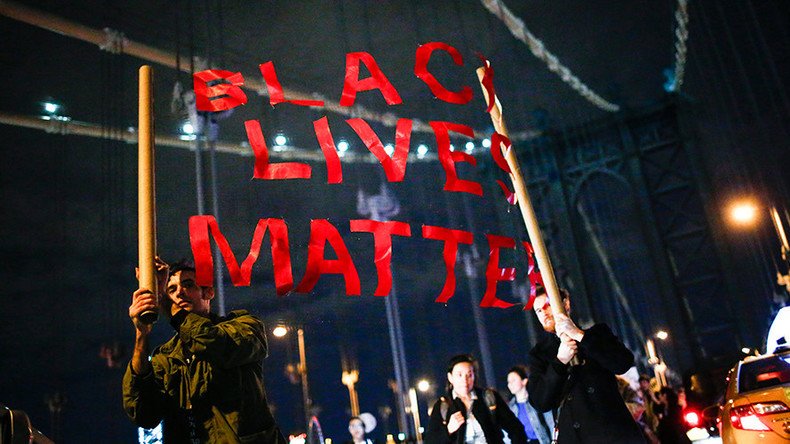 A New York Supreme Court judge has ruled that the New York Police Department must comply with an information request for files and recordings of undercover surveillance of a Black Lives Matter protest that didn't result in any arrests.
The NYPD had sought to withhold its records from activist James Logue, who had attended a Black Lives Matter protest at Grand Central Station in November 2014. Logue filed a Freedom of Information (FOI) request for the files after noticing both uniformed and plainclothes officers "regularly and openly recording events as they were taking place," court documents said.
Mass protests erupted at Grand Central Station in December 2014 after a grand jury decided not to indict Daniel Pantaleo, a police officer involved in the chokehold death of Eric Garner in July of that year. Garner's death was caught on video and ruled a homicide by the city medical examiner, but the grand jury decided not to indict Pantaleo on any charges.
Such surveillance would likely be in violation of the 1985 Handschu Agreement, a consent agreement that prohibited indiscriminate police videotaping and photographing of public gatherings unless there was some indication of unlawful activity. A revised version from 2002 still contained a clause to force the NYPD to turn over the files related to their public surveillance program.
The NYPD initially argued that it didn't have any records relating to the protest, but FOI requests granted by Metro-North and the New York City subway system showed correspondence between the two transit agencies and police. The department then argued that its records weren't subject to the state's FOI law because it would reveal tactics that would interfere with law enforcement's work.
Supreme Court Justice Manuel Mendez denied the NYPD's request to withhold the documents because their reasoning was "overly broad."
The "speculative and conclusive claims" used in the FOI denial "of potential related ongoing investigations of incidents against police officers, both in New York and outside of the state and generalized references to use of the materials by" Islamic State terrorists "fail to provide a causal connection to the protesters and are insufficient to state a generic risk," Mendez wrote.
The NYPD has a "long history" of "surveilling and infiltrating protest movements and other related First Amendment activity," similar to the FBI's Counterintelligence Program (COINTELPRO), and Logue wanted to see if the department was compiling dossiers on Black Lives Matter protesters, lawyer MJ Williams, who worked on the case, told RT.
COINTELPRO was a tactic frequently used under FBI Director J Edgar Hoover in the 1960s to infiltrate groups such as the Black Panther Party and peace activists involved with Martin Luther King Jr. New York City's Handschu Agreement was made in response to the NYPD's illegal surveillance of war protesters in the 1960s and 1970s.
"Once we are able to review the documents, we hope to have a better understanding" of the NYPD's surveillance at the protest, including "who was targeted, what activities were the target of surveillance," Williams said.
Mendez's ruling will provide precedent for others seeking information from the NYPD in the future or who are currently in litigation against the department over their FOI requests, she said.
"This is big victory for activists and freedom of information requests and a rebuke to the NYPD regular response to deny and delay," attorney David Thompson, who argued the case, said in a statement. "Justice Mendez spent significant time reviewing the records and papers before issuing this decision, and we will need time to review the decision as well."
The NYPD has 30 days to provide the records to Logue, with the agreement that identifying information of the undercover officers will be redacted.
You can share this story on social media: