Senate confirms David Friedman as US ambassador to Israel
Published time: 24 Mar, 2017 01:48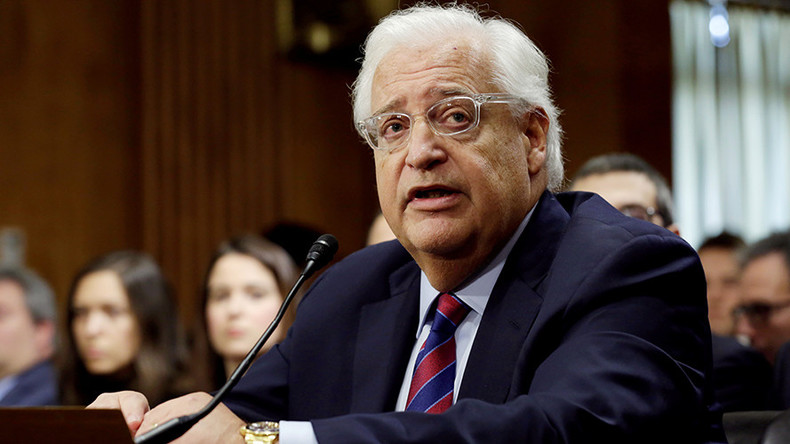 In a narrow vote Thursday, the US Senate confirmed David Friedman, President Donald Trump's controversial pick for ambassador to Israel, in his new role.
Friedman was confirmed by a majority of 52 to 46 in a vote that was deeply divided among party lines. All but two Democrat Senators – Robert Menendez (D-N.J.) and Joe Manchin (D-WV) – voted against the former bankruptcy lawyer, even those normally seen as pro-Israel. The level of opposition to Friedman was quite unusual, as most of a president's nominees tend to be approved by the Senate by a large majority.
A son of an Orthodox rabbi with no previous political experience, Friedman runs a nonprofit supporting the Beit El settlement near Ramallah on the West Bank, and has supported moving the American embassy from Tel Aviv to Jerusalem, an idea also voiced at one point by Trump.

"I intend to work tirelessly to strengthen the unbreakable bond between our two countries and advance the cause of peace within the region, and look forward to doing this from the US embassy in Israel's eternal capital, Jerusalem," Friedman said in a statement released by the Trump transition team when his nomination was announced in December.

Known for his outspoken, right-wing statements, Friedman has previously accused Barack Obama of "anti-Semitism" and likened one liberal Israeli anti-occupation group, J Street, to Kapos – prisoners who were appointed to supervise forced labor in Nazi concentration camps during the Holocaust, often perceived as collaborators.
Earlier in March, Friedman's appointment was approved by the Senate Foreign Relations Committee two when Republican Senator Bob Corker praised him as an "impassioned advocate" for strong US-Israeli ties.

"He understands the complexity of issues at stake for the United States and the necessity to support a democratic ally in an important and unstable part of the world," Corker said, as reported by Reuters.
READ MORE: Trump names David Friedman as US ambassador to Israel
At the hearing before the committee in February, Friedman backtracked on some of his earlier statements, saying he "regretted" his choice of words describing J Street and calling a two-state solution "best possibility for peace in the region." But in an Op-Ed for the website Arutz Sheva in July 2016, Friedman called the two-state proposal "an illusion that serves the worst intentions of both the United States and the Palestinian Arabs."
President Trump appears to be seeking better ties with Israel than his predecessor, Barack Obama, under whom US-Israeli relations hit a low point when the US didn't veto a UN Security Council resolution criticizing Israeli settlement construction in the West Bank. However, in a meeting with his Israeli counterpart Benjamin Netanyahu in February, Trump told the Israeli Prime Minister that he would "like to see you pull back on settlements for a little bit."
READ MORE: 'Just a club for people to get together': Trump slams UN after Israel vote