Controversial Keystone XL pipeline set to be approved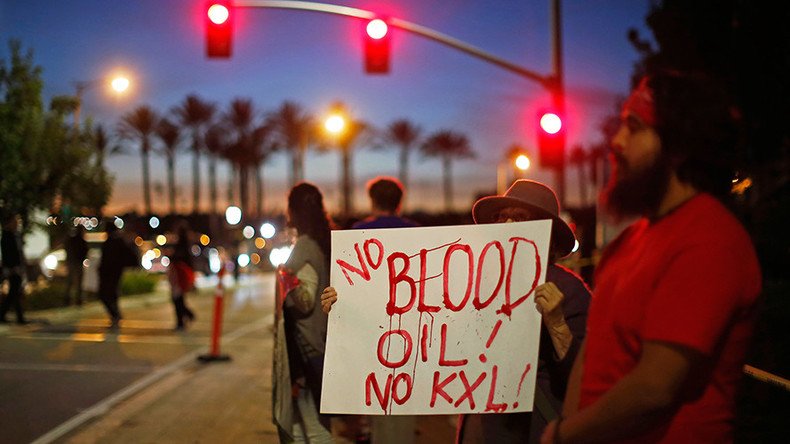 The Trump administration is set to approve the TransCanada Keystone XL pipeline, reversing a key environmental decision of the Obama administration. The 1,700-mile pipeline would carry oil from Alberta tar sands in Canada to Houston-area refineries.
Secretary of State Rex Tillerson had recused himself from the approval process because of his former ties as chief executive for Exxon Mobil.
His deputy, Obama administration holdover Tom Shannon, will make the recommendation on Friday that the pipeline serves US national interests, according to two senior officials who spoke to AP. The White House will then formally announce the final approval.
The White House would not confirm the report. Spokesman Sean Spicer told reporters he would have more on Keystone during a briefing on Friday.
The $8 billion pipeline project would pass through multiple US states: Montana, South Dakota, Nebraska, Kansas and Oklahoma. The project still faces hurdles, especially in Nebraska, where landowners have denied it the right of way. TransCanada said 90 percent have signed easement approvals, but there are still holdouts.
The Nebraska Public Service Commission also has to approve the pipeline's route; a decision that is expected in late September, according to Politico. A local environmental group, Bold Alliance, is seeking residents to file as "intervenors" in the NPSC process to block approval.
Environmental groups objected to the pipeline's route and argued it presents too high a risk for oil leaks and would encourage the use of polluting sources of energy that contribute to global warming.
President Barack Obama rejected the pipeline in 2015, after a negative recommendation from then-Secretary of State John Kerry.
In rejecting the pipeline, the Obama administration had argued it would undercut US efforts to clinch a global climate change deal that was reached weeks later in Paris.
In one of his first acts as president, Trump invited TransCanada to resubmit the application to construct and operate the pipeline. The company first applied for a permit in 2008.
The oil industry has argued the pipeline would create jobs and improve US energy security. Critics have countered that the jobs would be few and short-lived and that the oil won't be of benefit domestically, as it is slated for export to international markets.
You can share this story on social media: