Trump holds Kentucky rally amid push of Obamacare replacement, travel ban
Published time: 20 Mar, 2017 23:40
Edited time: 22 Mar, 2017 12:09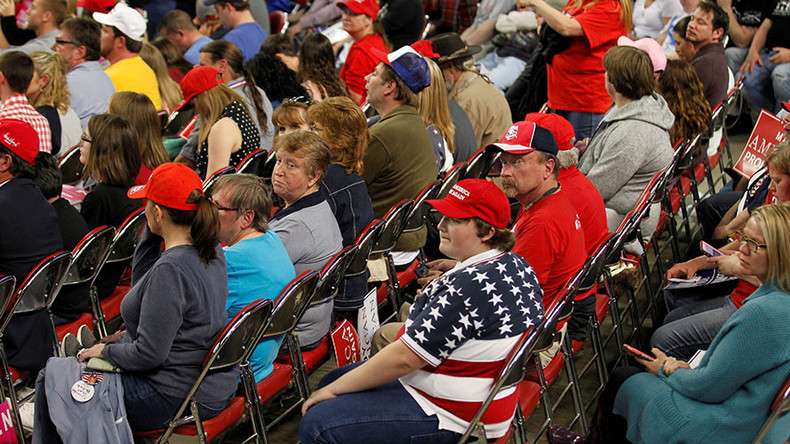 Thousands gathered in Louisville, Kentucky, to hear President Donald Trump promote his policy agenda after two months in office. He faces an approval rating drop, federal courts halting executive orders and Republican infighting over healthcare reform.
Monday evening, Trump told his roaring supporters, "it is indeed time" to start rebuilding the country, under the leadership of Transportation Secretary Elaine Chao. He also pointed over at her husband, Senate Majority Leader Mitch McConnell (R-Kentucky) and asked whether "healthcare is going well," referring to negotiations in Congress over a new overhaul of health care system. McConnell received some boos from his home state crowd.
Rehashing the campaign and his electoral victory, Trump said "there was a path to 306, maybe not 270," mocking his detractors to the delight of the attendees.
The president suddenly transitioned to North Korea, which he described as "disgraceful," before breathlessly moving on to domestic policy and bringing jobs back from overseas after "horrible trade deals."
"We are going to drain the swamp of Washington, DC," Trump said. He listed goals, including "massively lowering" taxes and increasing support of law enforcement and military veterans. The 45th president also highlighted his repeal of Obama-era coal regulations, promising coal miners would be put back to work.
On healthcare reform, Trump urged Kentucky's conservative Republican Senator Rand Paul to compromise and vote for the Obamacare replacement, "in order to pass massive tax reform" afterward Trump said.
Trump anticipated the "crucial House vote on Thursday," the seventh anniversary of the passing of Obamacare, for when the House is expected to pass the American Health Care Act, House Speaker Paul Ryan's (R-Wisconsin) proposal to replace Obamacare, more formally known as the Affordable Care Act. Senator Paul and Republican Congressman Thomas Massie, both of Kentucky, are against the current replacement bill.
As the line to get inside the Kentucky Exposition Center grew longer Monday, so did the list of issues gripping the Trump administration. From the Senate confirmations of Trump's nominee to the Supreme Court, Neil Gorsuch, to FBI Director James Comey's testimony to Congress that denied any evidence to back Trump's tweeted accusation that former President Barack Obama had "wiretapped" Trump Tower, the president had plenty to address.
READ MORE: Supreme Court nominee Gorsuch stresses 'judicial independence' in Senate confirmation hearing
The Louisville crowd was raucous, but they represent a minority nationwide, according to a new poll. Gallup's daily tracking of President Trump's approval rating fell to its lowest mark yet on Saturday. Just 37 percent of about 1,500 Americans approved of the job Trump was doing as president, the lowest approval rating since Trump was sworn into office January 20. On Sunday, Trump's approval rating climbed to 39 percent, while 55 percent disapproved.