Philly mayor 'devastated' by Cinco de Mayo cancelation over ICE fears
Published time: 20 Mar, 2017 21:04
Edited time: 22 Mar, 2017 12:20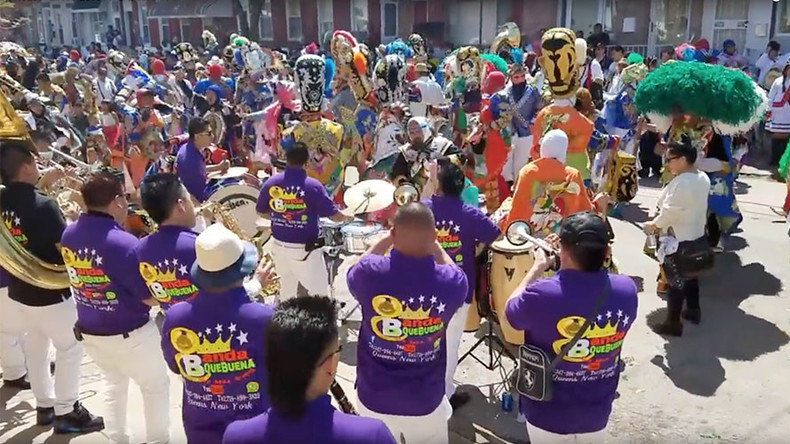 Organizers of the main Cinco de Mayo celebration in Philadelphia, Pennsylvania say they've canceled this year's festivities due to the Trump administration's immigration policies and threats they have received about federal agents targeting the event.
Philadelphia Mayor Jim Kenney was disappointed by the development.
"I'm devastated to hear that ICE has had such a chilling effect that Philadelphians no longer feel comfortable engaging in this public celebration," Kenney told WCAU.
The 10th annual El Carnaval de Puebla en Filadelfia, the city's largest Cinco de Mayo event, celebrates Mexico's 1862 defeat of French invaders during the Battle of Puebla. The event is known for its elaborate costumes and a variety of vendors and musical performances.
"The group of six organizers decided to cancel unanimously," Edgar Ramirez, a member of the event's organizing committee, told WCAU. "Everyone is offended by the actions of ICE. They did not feel comfortable holding the event," he added, referring to Immigration and Customs Enforcement.

"People are scared. The atmosphere is not good," Ramirez told The Philadelphia Inquirer.
Ramirez mentioned concerns among both documented and undocumented immigrants. Those include the roundup of about 200 people during a raid in Pennsylvania this month, as well as deportation raids around the nation.
TheCarnaval attracts thousands of people in the Philadelphia area and neighboring states.
"We don't want to risk anyone," Ramirez said.
Another organizer of the event told KYW-TV they have received threats about an immigration crackdown at this year's celebration, which was scheduled for the last Sunday in April.
"They say, 'we are going to call the immigration guys, so they can come over and catch more people'," said David Pina.
ICE does not engage in mass sweeps or raids, Khaalid Walls of the agency's Philadelphia office told WCAU.
"ICE's enforcement actions are targeted and lead-driven. ICE does not conduct sweeps or raids that target aliens indiscriminately," he said.
A spokesman for the Mexican consulate in Philadelphia said he was aware of the event's cancellation.
"I would understand why people are scared or worried," Carlos Torres told WCAU. "But our message is that we are with them. People should try to continue to live their lives as regular as possible, but in a well-informed matter."
Ramirez said the organizing committee is hopeful that the festival will return "even stronger" in 2018.
Since Donald Trump took office, the US government has ramped up deportations of immigrants who are in the United States illegally. ICE agents have detained undocumented immigrants who not only have criminal records, but also those who are facing criminal charges but have not been convicted, and even those without any criminal record at all.