Trump complains of Germany 'owing vast sums to NATO', says US owed for defense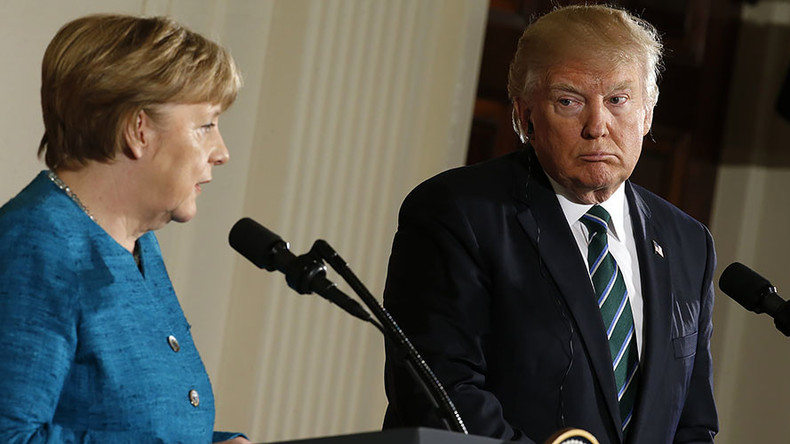 US President Donald Trump has taken to Twitter to once again 'remind' Germany over its NATO membership payments, a day after he applauded Chancellor Angela Merkel for re-committing Germany's financial contribution to the military alliance.
In his tweets, Trump complained that Germany owed "vast sums" to NATO and claimed the US should be paid more for the "expensive defense" he says it provides to Germany.
Despite what you have heard from the FAKE NEWS, I had a GREAT meeting with German Chancellor Angela Merkel. Nevertheless, Germany owes.....

— Donald J. Trump (@realDonaldTrump) March 18, 2017
...vast sums of money to NATO & the United States must be paid more for the powerful, and very expensive, defense it provides to Germany!

— Donald J. Trump (@realDonaldTrump) March 18, 2017
The president's comments were met with a sharp rebuke from former US Ambassador to NATO Ivo Daalder, who posted a thread schooling the president on "how NATO works."
Daalder pointedly told Trump that "this is not a financial transaction, where NATO countries pay the US to defend them" but instead is part of a country's treaty commitment. He highlighted that Europe pays more on defense, but not as a favor or payment to the US and that the US commitment to NATO "is vital for our own security."
NATO's finances featured high on the agenda Friday when Trump had his first face-to-face meeting with Merkel at the White House. Merkel said Germany had committed to spending 2 percent of GDP on defense until 2024 and had increased their defense spending by 8 percent last year.
Merkel's apparently softened stance on the issue differs, however, from some other high-ranking German officials who've expressed reluctance on committing to straightforward spending increases.
READ MORE: Trump applauds Merkel's 'commitment' to boost NATO spending
Trump also tweeted that despite "fake news" reports, he had a "great" meeting with Merkel. The comment was likely a response to viral coverage of the frosty moment in which he declined to shake hands with the German Chancellor inside the Oval Office.
READ MORE: Trump shuns shaking Merkel's hand during Oval Office encounter (VIDEO)
The US is the biggest contributor to NATO's defense expenditures, spending roughly two and a half times more than the rest of the allies combined. The US spent an estimated $664 billion on defense last year.
Only five out of 28 NATO nations are currently meeting the two percent of GDP spending mark. Along with the US, these are the UK, Estonia, Greece, and Poland.
You can share this story on social media: