Trump's favorite 'Irish proverb' is actually Nigerian
Published time: 17 Mar, 2017 11:27
Edited time: 18 Mar, 2017 08:46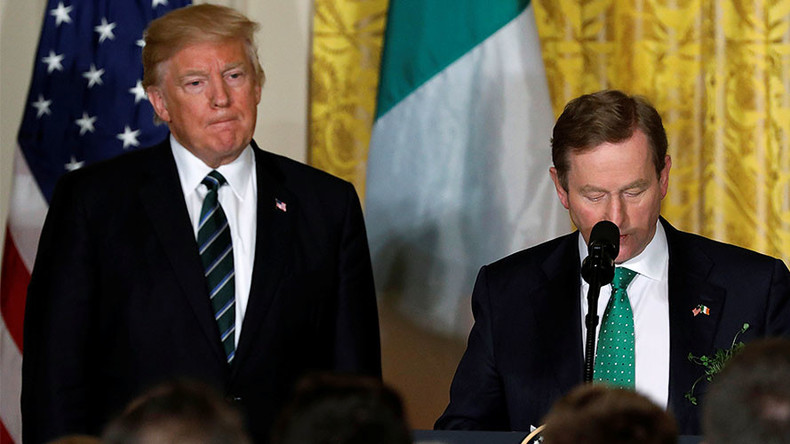 Speaking at a ceremony to mark St. Patrick's Day, US President Donald Trump shared an Irish proverb that left many people in Ireland scratching their heads and wondering why they had never heard it before.
READ MORE: A load of Blarney: The truth behind all those St Patrick's Day myths
Trump shared the saying at the traditional White House Shamrock Ceremony, which marks Ireland's national holiday. This year's ceremony was attended by Irish Prime Minister Enda Kenny.
"This is a good one, this is one I like, I've heard it for many, many years and I love it," the president said, teeing up the words of wisdom.
"Always remember to forget the friends that proved untrue, but never forget to remember those that have stuck by you," Trump said before adding: "We know that, politically speaking. A lot of us know."
The immediate reaction was one of confusion, with many people noting on Twitter that they had never heard it before.
It soon became apparent that the phrase wasn't an Irish proverb at all, but was in fact a line from a poem by Nigerian poet Albashir Adam Alhassan.
However, the phrase does incorrectly appear as an "Irish proverb" on various websites, including english-zone.com and Pinterest.
A White House spokesperson told The Hill that the proverb was "originally supplied in an email on March 8 by the State Department via [the National Security Council] as building blocks in advance of this event. These building blocks were supplied in the context of the Shamrock Ceremony and were ultimately used in the prepared remarks for the luncheon."
TV host Jimmy Fallon later skewered the proverb, seemingly unaware that it wasn't Irish, by making it into a Dr. Seuss-style rhyme about Trump's travel ban.
The president's "proverb" choice wasn't the only gaffe during the Shamrock Ceremony, as Irish leader Kenny had a slip of the tongue, saying he was invited to the White House shortly after the election of "President Bush."