'This is disgusting': NJ parents revile 'slave auction' school poster project (PHOTOS)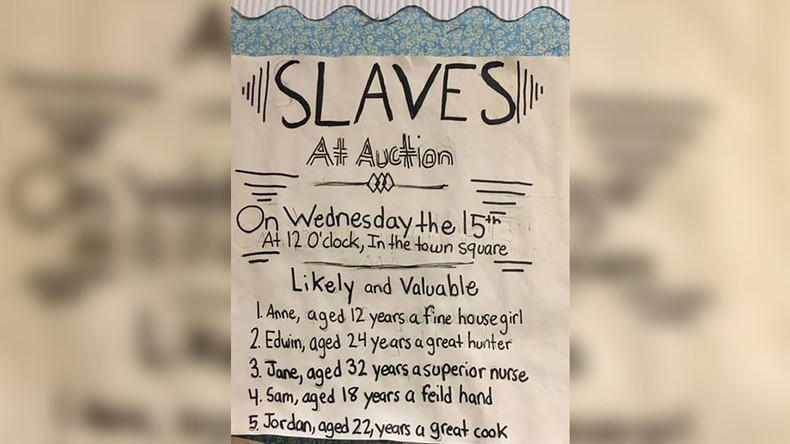 A New Jersey elementary school has been forced to remove posters made by 10 and 11-year-old students as adverts for a 'slave auction' after backlash from parents over the assignment.
The furore began after parents reacted angrily to seeing the handmade posters advertising slaves hanging in the corridor of South Mountain Elementary School in South Orange.
School District Superintendent John Ramos said in a note to parents that the school project had been going for 10 years, New Jersey News 12 report.
"We completely understand how disturbing these images are, and why parents were upset," Ramos conceded. He added that the project's display should have included an explanation so that the posters were not viewed out of context.
However, he defended the assignment saying some families have come forward to support it "because they see it as an important opportunity to examine this shameful and too often ignored chapter of American history."
"Educating young students on the harsh realities of slavery is of course not the issue here, but the medium for said education is grossly insensitive and negligent," one parent, Jamil Karriem, responded on Facebook.
"This is disgusting. I just can't even fathom a teacher that thinks this is ok. Whoever he or she is should definitely be fired and never teach again," Larissa Mullen said in response to Karriem's post.
Education officials are reportedly planning a community meeting to discuss whether the assignment is appropriate for students of that age.
READ MORE: 'Caste legal system: In US you only get as much justice as you can afford'
A similar incident in Howard University, a historically black university in Washington, DC, also sparked anger this week. In that incident, a white professor paraded a male student in front of the class and weighed up how much he would sell for at an auction.
"He asked me to show my butt to the class so that he could get a better sense of my worth and had the audacity to say that it was uncomfortable for him too because he's a white man," the student told Caged Bird magazine.
You can share this story on social media: