Native Americans picket White House in #NoDAPL protest (VIDEO)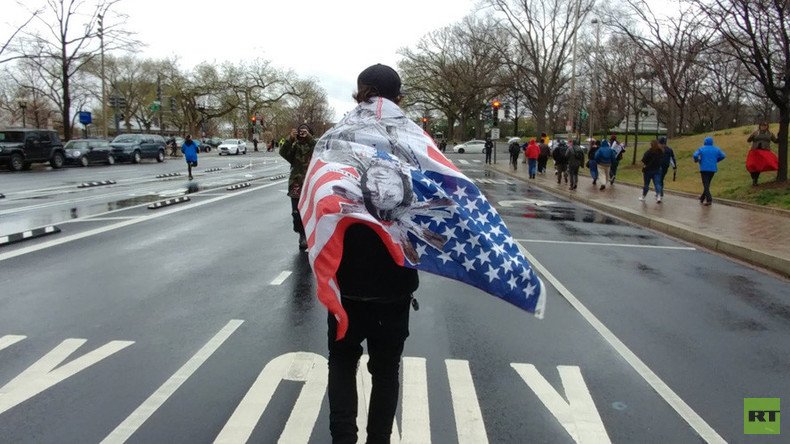 Thousands of Native Americans and environmental activists marched through downtown Washington, DC and picketed the White House to protest the construction of the Dakota Access Pipeline, which has been fast-tracked by the Trump administration.
Protesters first gathered outside the headquarters of the Army Corps of Engineers, the service branch responsible for approving the permit for building the pipeline segment under Lake Oahe in North Dakota. The lake is the primary source of water for the Standing Rock Sioux Nation reservation.
Protests against the pipeline began in March 2016 and succeeded in temporarily halting the construction in December. Within days of his inauguration, however, President Donald Trump ordered the Army to expedite the review. The final segment of the pipeline has since been built, and the oil is scheduled to start flowing as early as Monday.
Gathering outside the White House, protesters called for Trump to meet with tribal leaders and chanted slogans including "Water is life" and "We will resist."
Among the speakers at the rally were Standing Rock Sioux chairman Dave Archambault II and US Representative Tulsi Gabbard (D-Hawaii).
"I was proud to have joined you at Standing Rock, as we stood together with Water Protectors from all across this country," said Gabbard, who took part in the veterans' protest in November. "And I'm so proud to stand here with you today."
"We are gathered here around not a partisan issue, not a divisive issue, but an issue that is essential to humanity," she added. "The fight for clean water is the battle for the lifeblood of our planet, the soul of our nation and all nations."

Earlier, the protesters put up a tipi outside the Trump International Hotel on Pennsylvania Avenue, as icy rain turned to snow flurries.
"We do not have the luxury not to resist this administration," said rapper Talib Kweli, who joined the protesters in solidarity."You know what's uncomfortable? Injustice."
Yakama Nation chairman JoDe L. Goudy read out the joint proclamation with the Standing Rock Sioux Tribe, calling on Pope Francis and the Roman Catholic Church to revoke 15th century documents that established the "Doctrine of Discovery," used to claim dominion over the Americas and their native inhabitants. Goudy pointed out that the US government invoked this doctrine as late as the 1950s in a Supreme Court case involving a dispute with Native Americans.
READ MORE: US Judge rules against tribes seeking to stop Dakota Access Pipeline
On Tuesday, a federal judge dismissed the complaint by the Cheyenne River Sioux, who tried to block the pipeline on grounds that having the oil flow under the lake would infringe on their religious freedoms.
You can share this story on social media: