US Judge rules against tribes seeking to stop Dakota Access Pipeline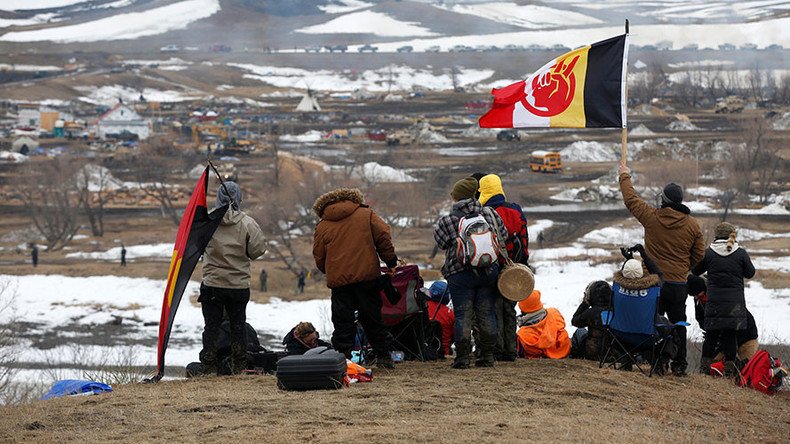 A federal judge has denied the Cheyenne River Sioux tribe's request to block the final phase of the controversial Dakota Access Pipeline. The tribe had argued that the presence of the pipeline desecrated its sacred land and water.
The final leg of the pipeline is set to be built under Lake Oahe in North Dakota. The Cheyenne River Sioux sought a preliminary injunction against the construction because they use the lake for sacred ceremonies. They argued that the project would interfere with their religious practices.
US District Judge James Boasberg dismissed the tribe's arguments on Tuesday.
"Cheyenne River's religious-exercise claim ... involves a government action — granting an easement to Dakota Access to build and operate a pipeline — regarding the use of federal land —the land under Lake Oahe — that has an incidental, if serious, impact on a tribe's ability to practice its religion because of spiritual desecration of a sacred site," he wrote in his 38-page decision.
Dakota Access, the company building the pipeline, had already "modified the pipeline workspace and route more than a hundred times in response to cultural surveys and Tribes' concerns regarding historic and cultural resources," Boasberg wrote, adding that rerouting the Dakota Access Pipeline (DAPL) around the lake "would be more costly and complicated than it would have been months or years ago."
The problem with rerouting is that it would not just be a simple change of plans, but would requiring the company to abandon "part of a near-complete project and redoing the construction elsewhere," he continued.
While the tribe argued that its treaties with the United States provided access to fresh water, Boasberg countered that legal precedent defined that access in terms of agriculture, irrigation and drinking water, not access for religious purposes.
It is not the first time Boasberg has ruled against Native Americans fighting the pipeline. In mid-February, he dismissed a request by a group of tribes to stop the construction of the final link, which was also made on religious grounds. In that dismissal, Boasberg stated there was no imminent harm to the tribes' religious practices as oil is not flowing through the pipeline yet.
He also rejected a request to block the project in September. However, that ruling was superseded by the Obama administration's decision in December to delay construction, pending an environmental review.
One of President Donald Trump's first acts in office in January was to sign a presidential memoranda ordering the removal of obstacles to the construction of both the Dakota Access Pipeline and the Keystone XL, which was also halted under the previous administration.
The ruling will allow Dakota Access, a subsidiary of Energy Transfer Partners, to finish the final 1,100ft (335m) connection, completing the $3.8 billion, 1,170 mile pipeline.
You can share this story on social media: