FBI allegedly paid Geek Squad technicians as 'confidential human sources' in child porn case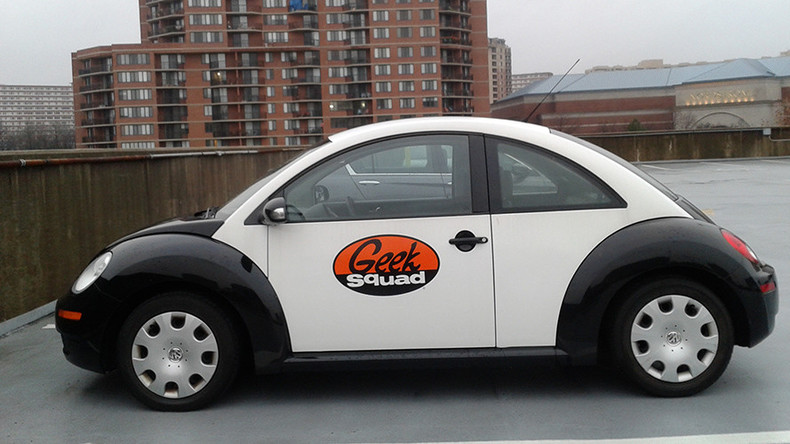 Recently unsealed documents reveal the FBI has allegedly been paying Geek Squad technicians to search customers' computers for illegal material, allowing the FBI to conduct searches without a warrant.
In January, the FBI testified against Dr. Mark Albert Rettenmaier, 62, a gynecological oncologist, facing child pornography charges after Geek Squad technicians supposedly located an image of a young naked girl on his computer in 2011. The image was discovered in a section of Rettenmaier's hard drive where deleted files are stored when he brought it to a Best Buy store for repairs.
Rettenmaier has pleaded not guilty and his lawyers are arguing that the case should be thrown out, because the image was obtained through an illegal search. His lawyers claim that the FBI used technicians at Best Buy's Geek Squad, one of the most popular computer repair services in the US, to search his computer without obtaining a warrant.
James Riddet, Rettenmaier's defense lawyer, claims "the FBI was dealing with a paid agent inside the Geek Squad who was used for the specific purpose of searching clients' computers for child pornography and other contraband or evidence of crimes," according to a court filing obtained by the Los Angeles Times.
Riddet accuses the FBI of paying at least eight employees at Geek Squad to be "confidential human sources."
As early as 2010, FBI agent Tracey Riley allegedly wrote to her supervisor, reporting on a "source" at Geek Squad.
"Source reported all has been quiet for about the last 5-6 months, however source agreed that once school started again, they may see an influx of CP [child pornography]," Riley wrote, according to internal FBI communications obtained by the Washington Post.
That source was later identified as Justin Meade, a supervisor at the Geek Squad maintenance center in Kentucky, who contacted the FBI after he discovered the illegal material on Rettenmaier's computer. Meade was reportedly paid $500 for providing evidence to the FBI, according to an informant file obtained by the Los Angeles Times.
Meade denies that he was ever paid, and Riley has denied that he was ever directed to search for any illegal materials by the FBI.
"I never asked or ordered Mr. Meade or any Best Buy employee to search for child pornography or gather information on child pornography or any other crimes on my behalf or on behalf of the FBI," Riley wrote in a declaration, according to the LA Times.
Riddet claims that the FBI has been using Geek Squad technicians as informants since 2007, and said, "There was always at least one supervisor who was an active informant," OC Weekly reported.
Riddet will be able to question Meade during a hearing scheduled in August about any Fourth Amendment privacy rights that may have been violated by the FBI.
The prosecution argued that when Rettenmaier signed his computer over to the Geek Squad, he "waived any right to raise a Fourth Amendment claim," because the service order he signed contained the admonition: "I am on notice that any product containing child pornography will be turned over to the authorities," according to the Washington Post.
Best Buy released a statement in January, denying any relationship with the FBI. They also say their policies "prohibit agents from doing anything other than what is necessary to solve the customer's problem."
"From time to time, our repair agents discover material that may be child pornography, and we have a legal and moral obligation to turn that material over to law enforcement. We are proud of our policy and share it with our customers before we begin any repair," the statement reads.