'Touch it & you could overdose': Toxic drug 'pink' linked to 50 deaths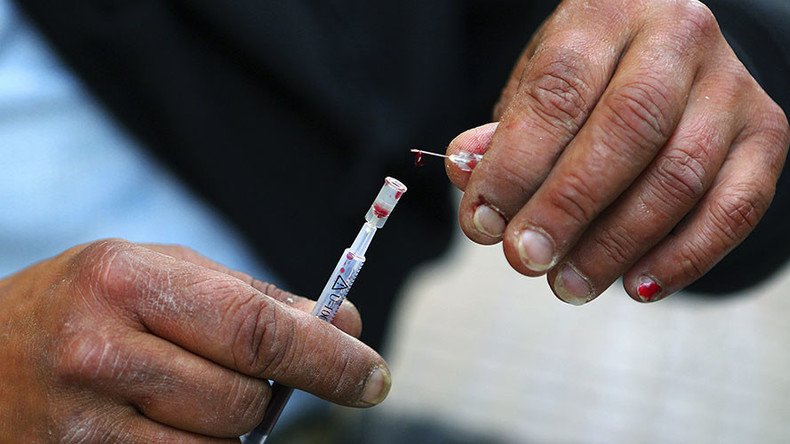 A synthetic drug known as 'Pink' which is seven times stronger than morphine has been linked to 50 deaths in the US. The Drug Enforcement Agency (DEA) has warned that people can overdose on the substance simply by touching it.
"If you touch it and it dissolves and enters your skin and into your bloodstream that could cause you to overdose," Doug Coleman from the DEA is cited as saying by KPNX.
The opioid, known as U-47700, is white in color, similar to heroin, despite it's name. The drug side effects are reported to include rectal bleeding, severe nerve damage and death.
Originally developed by pharmaceutical company UpJohn in 1978 as a synthetic alternative to morphine, its recipe has seen a resurgence lately because it can be easily ordered on the internet.
"You could have a kid sitting next to you on his cell phone, 35 bucks for a gram of 'pink'. He can order it. Five days later it shows up on your doorstep," Coleman said.
In November the DEA classed the substance as a Schedule 1 drug, making it illegal in all states after it was linked to the death of two teenagers in Utah.
"Based on the documented case reports of overdose fatalities, the abuse of U-47700 leads to the same qualitative public health risks as heroin, fentanyl and other opioid analgesic substances," DEA said in a statement.
READ MORE: US cities propose contradictory methods dealing with heroin epidemic
Coleman warned users against mixing the drug with heroin before injecting the concoction in a lethal dose known as "hot shots".
Some 50 deaths have been linked to the drug across the US, which Coleman claims has users in every demographic. "We see everybody from every class at every age acquiring these substances." he said.
You can share this story on social media: