US cities propose contradictory methods dealing with heroin epidemic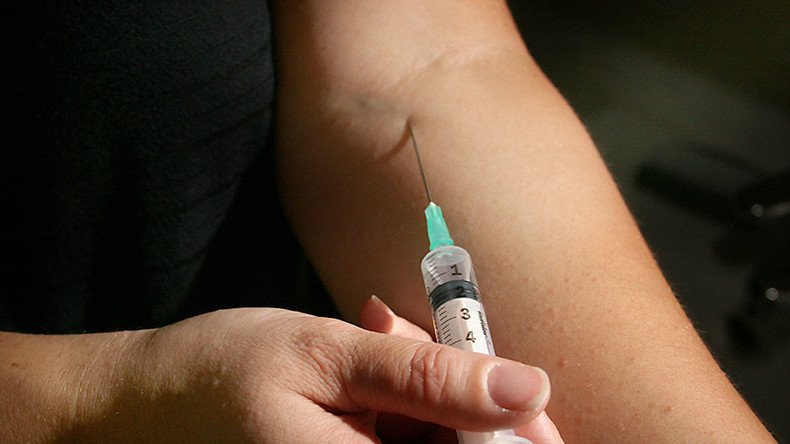 Police in Ohio are arresting people who overdose, charging them with a misdemeanor, while officials in Baltimore would like to train the public to handle an overdose. These are just some of the responses as US cities and towns devise ways to handle the fallout in the heroin battle.
In Washington Court House, Ohio, police last month began citing people with inducing panic if responders revived them with naloxone, an opioid antidote. The misdemeanor charge is punishable by up to 180 days in jail and a $1,000 fine.
At least seven people have been issued summonses for inducing panic so far.
"It gives us the ability to keep an eye on them, to offer them assistance and to know who has overdosed," City Attorney Mike Pitsick told WSYX-TV. "Sometimes we can't even track who has overdosed."
Pitsick added it was not about putting people into jail.
"We are trying everything we can do. It's an epidemic," said Pitsick.
The change in approach comes after a burst of overdoses in Fayette County in late January and early February, when there were 30 suspected overdoses, including six deaths, in a 10-day period, WCMH-TV reported.
On February 13, 1,200 people from 80 Ohio counties including state officials met to brainstorm and share information in the fight against opiate epidemic.
"Working with the adjacent counties and police departments, we have managed to keep a hold on things and even one loss of life is too much for me," Pike County Sheriff Charles Reader told WCMH-TV.
He said he has 16 road deputies who are going through training to administer Narcan. In the first six weeks of this year, Reader said his office has spent $13,000 in overtime.
In Baltimore, officials have begun training everyday citizens to use a life-saving antidote as one tool to combat the crisis, and the approach is catching on. But while many more states and municipalities have moved to make Naloxone more accessible, not everyone believes this is the right strategy.
PBS reported in Maryland, deaths from opioids, which include heroin, fentanyl and prescription painkillers, doubled between 2010 and 2015, to just under 1,100 people a year with heroin fatalities alone more than tripled.
In just the past three years, deaths in Baltimore from fentanyl, a synthetic opioid far stronger than heroin, are up 20-fold.
In late 2015, Dr. Leana Wen, Baltimore's health commissioner, and a practicing emergency room physician, issued a standing order for naloxone to all 620,000 city residents.
Residents went through very basic training in purchasing and using naloxone. If a patient dies, a 2015 Good Samaritan law said there is not risk of prosecution if citizens intervene and the victim dies.
But there are critics to the plan.
Timmy Hall was with the Baltimore Police Department for 24 years, where he routinely saw opioid overdoses. He says officers often use Narcan to revive the same drug users over and over again.
"A lot of times, they get upset with you when you bring them back, because they feel like you wasted the money they spent. You know, that's the feeling that they wanted. That wanted that feeling, and you took it away from them," Hall told PBS News Hour.
Those decisions come as a recent Centers for Disease Control Report showed that fatal drug overdoses have more than doubled since 1999, rising from 6.1 deaths per 100,000 people to 16.3 deaths in 2015. The health agency said those fatalities outstripped rates from suicides, cars and firearms.
"The rates are still going up," said Dr. Holly Hedegaard, a coauthor of the report and a medical epidemiologist at the CDC's National Center for Health Statistics.
Both heroin and opioid use have exploded in the US, after decades of doctors overprescribing painkillers in the 1990s and 2000s.
You can share this story on social media: