Where's Rex? State Secretary Tillerson's low profile on Human Rights Reports breaks custom
Published time: 4 Mar, 2017 01:03
Edited time: 4 Mar, 2017 13:33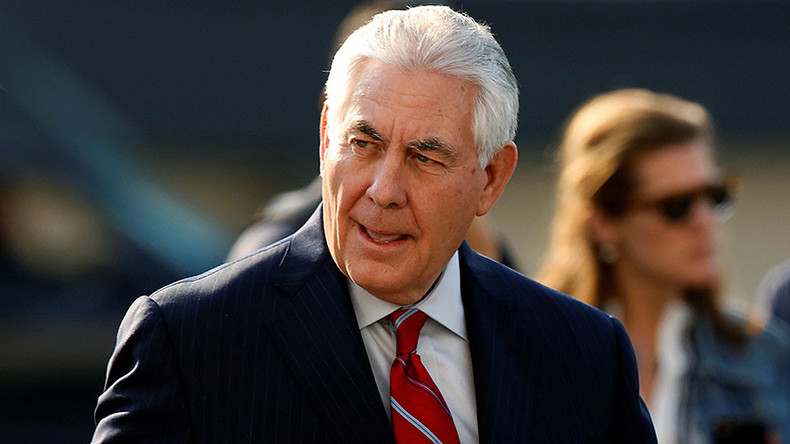 Human rights around the world are in a slump, according to a new annual US report, but it's the shrinking away of Secretary of State Rex Tillerson on the matter that has many just as concerned.
When it comes to global human rights, US officials often promise to lead the fight for progress. But on Friday, Secretary of State Rex Tillerson broke a long-standing tradition by declining to make a public appearance to announce the publication of his department's Country Reports on Human Rights Practices for 2016.
The annual report has existed for over four decades, and recent Secretaries of State have consistently held press conferences or made public comments to mark its release. On occasion, a top staffer of the secretary would fill in, but this year, there was none of that.
Only a media call hosted by an unnamed government official coincided with the report's release. The Guardian newspaper pointed out that President Donald Trump recently condemned news reports based on anonymous sources, and the Associated Press, along with many other outlets, noted Tillerson's absence as unprecedented.
"The report speaks for itself," the official said when asked why Tillerson did not present the findings, The Guardian reported. "We're very, very proud of it. The facts should really be the story here."
Senator Marco Rubio (R-Florida), who sits on the Appropriations Committee on Foreign Relations, criticized the State Department and Tillerson on Twitter ahead of the report's release.
"For 1st time in a long time," Rubio tweeted Thursday, "@StateDept #humanrights report will not be presented by Secretary of State. I hope they reconsider."
Tillerson's preface to the report said, "Promoting human rights and democratic governance is a core element of U.S. foreign policy."
"Our values are our interests when it comes to human rights," the secretary of state added. "The production of these reports underscores our commitment to freedom, democracy, and the human rights guaranteed to all individuals around the world."
Sarah Margon, the Washington director for Human Rights Watch, told the AP that the Trump administration's travel ban on seven predominantly Muslim countries and its intention to limit foreign aid have already compromised the US' image on human rights. HRW's research is cited in the report.
"Tillerson's absence from the State Department's annual human rights report release reinforces the message to governments, rights activists, and at-risk minorities that the State Department might also be silent on repression, abuse, and exploitation," Margon said.
READ MORE: Memo on stopping leaks at State Dept leaked, showing Trump faces battle to turn off tap
The report, which found that freedoms of association and expression were generally diminishing worldwide, was mostly conducted under the Obama administration. US embassies and consulates relayed concerns of restrictions on internet and media, sexual abuse against women and political suppression, among others.
The report's language on Russia was similar to years past, describing a "highly centralized, authoritarian political system dominated by President Vladimir Putin," where "the most significant human rights problems" included restrictions on NGO's and "citizens' ability to choose their government through free and fair elections," as well as discrimination against "lesbian, gay, bisexual, transgender, and intersex (LGBTI) persons."