Caught on camera: Kentucky cop enters house, immediately fires at unarmed man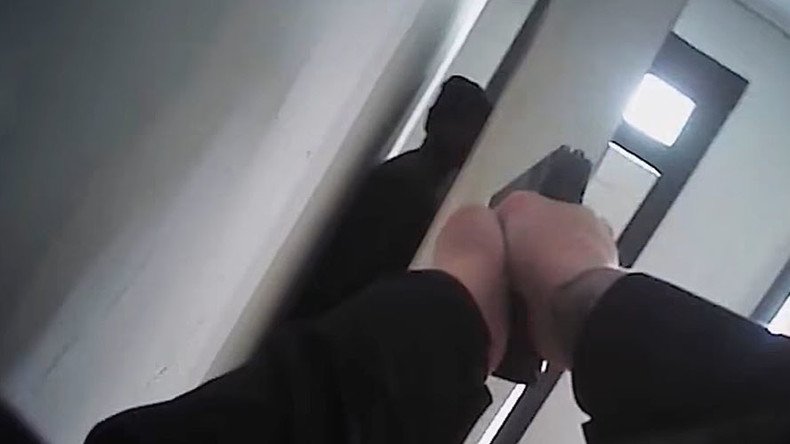 Police officer body camera footage shows a cop shot an unarmed man inside an abandoned house in Louisville, Kentucky immediately after demanding the man show his hands. Family and activists say the man posed no threat.
The Louisville Metro Police Department (LMPD) released video footage Thursday of the shooting incident that occurred one day prior. Officer Sarah Stumler was among three officers searching an abandoned house following a report of drug use inside. There, Stumler found Bruce Warrick, 39, hiding from the officers behind a box spring.
Once Stumler noticed Warrick, she yelled, "Show your hands," then immediately fired at him before he had a chance to follow her directions, the footage indicates. Stumler is heard saying, "Shit," after striking Warrick, later telling him, "You're okay, just hold on," as they waited for an ambulance.
No weapon was found on Warrick or in the rest of the house, LMPD Chief Steve Conrad said, according to the Courier-Journal.
Warrick remains in critical condition at University of Louisville Hospital, the Courier-Journal reported. Sections of his pancreas and intestines were removed during surgery on Thursday, according to Christopher 2X, an activist and spokesman for Warrick's mother and grandmother.
Here's Bruce Warrick - man shot by police yesterday- when he graduated drug court. Judge says he was 'an inspiration' to others in program pic.twitter.com/jkSU0Qb0y6

— Lauren Adams (@WLKYLaurenAdams) March 3, 2017
"He's in very, very serious condition," 2X said, according to the Courier-Journal, adding that Warrick's family disputes that the man posed a threat to the officers. A cousin of Warrick and 2X viewed the body camera footage on Thursday, 2X said.
Family provided this picture of Bruce Warrick, man shot by police officer Wednesday. Their reaction to officer body cam video at 11. pic.twitter.com/q5INVuWVog

— Lauren Adams (@WLKYLaurenAdams) March 3, 2017
LMPD investigators with the Internal Professional Standards Unit have begun a probe into the incident and whether the department's use-of-force policy was violated. LMPD officers are allowed to use deadly force when acting in self defense or in defense of another who the officer believes is immediately threatened with death or serious injury.
Stumler has been a Louisville cop since February 2009. She has been placed on administrative leave and will remained suspended until the investigation is conclusive. Stumler was accompanied in the abandoned house by Officers Braden Lammers and Aaron Seneker, neither of whom discharged their firearms. Stumler has had 14 commendations and two disciplinary actions on her record at a Louisville officers, according to local reports.
Conrad said Thursday he wants to refrain from passing judgement until the investigation is complete, the Courier-Journal reported.
"That is the purpose for the investigation. The Public Integrity Unit will look at this from the lens of whether or not the use of force was justified, Professional Standards Investigation (reviews it) next," Conrad said, according to WLKY.
Warrick has had depression and substance abuse problems in the past, 2X said, that have led him to seek refuge in abandoned houses. Warrick has previous felony drug convictions in Jefferson County, Kentucky, according to court records cited by local reports.
2X and other Louisville activists are calling on the LMPD to maintain transparency throughout the investigation.
"In the past, it seems like the police always justify these shootings, so there's a lot of concerns and a lot of mistrust, and we understand that," said Jerald Muhammad, founder of Brothers Helping Brothers, a youth jobs program, the Courier-Journal reported.
Louisville Mayor Greg Fischer urged patience and "prayer" for Warrick, Stumler and their families while the investigation advances.
"Chief Conrad and I are committed to a thorough investigation into the circumstances, and a fully transparent process, which started with releasing the body camera video a day after the incident," the mayor said in a statement.
Warrick has not been charged with a crime connected with the incident. He has undertaken substance-abuse counseling in the past and was a June 2015 graduate of the Jefferson County Drug Court.
"As a graduate of our program, Bruce was a generous and positive influence on others and he worked hard to achieve success in his own recovery," said Judge Stephanie Pearce Burke, who heads the program, WLKY reported. "Our thoughts and prayers are with Bruce and everyone involved."
You can share this story on social media: