Video of cop firing gun in dispute with teens sparks LA protests & 24 arrests (VIDEO)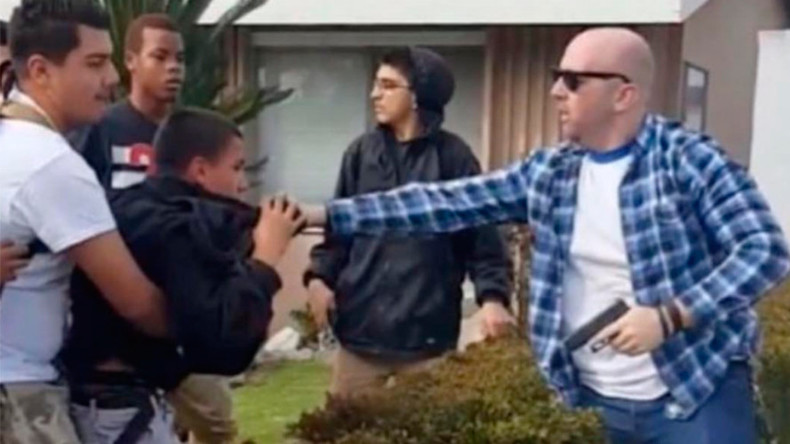 Hundreds of people took to the streets of Anaheim, California on Wednesday night after footage of an off-duty LAPD officer firing a gun during a confrontation with teenagers sparked outrage online.
The incident took place after the officer, whose identity has not been revealed, confronted a group of teens from a nearby high school for walking across his lawn. Anaheim police said in a statement that it was part of an ongoing dispute between the officer and teens.
No-one was injured by the gunfire but two teens were arrested when Anaheim police arrived at the scene. One was taken into custody for making criminal threats and battery, and the other was picked up for assault and battery.
Anaheim police confirmed that the off-duty officer is cooperating with the ongoing investigation and is not being arrested at this time. LAPD also announced that they are carrying out an investigation.
Anaheim Mayor Tom Tait said he was "very concerned" about what the footage showed and said the city is "committed to a full and impartial investigation."
The parents of one of the teens, Christian Dorscht, told the OCWeekly that although the teen was involved, he had never been in trouble with the law before. The boy's father said his son was defending a girl who had been verbally attacked by the officer.
Several teenagers who witnessed the incident were interviewed by investigators. Dorscht's father said their parents were treated rudely by Anaheim police.
Christian Dorscht was taken to a juvenile detention center before being released on Wednesday evening. His mother Alma Jimenez took photographs of her son allegedly right after his arrest which show wrist bruises where he was cuffed and other markings along his neck.
Footage of the confrontation was posted on YouTube and Facebook, prompting angry calls and emails to Anaheim police and leading to Wednesday night's march through the streets of Anaheim. Police later declared the protest an unlawful assembly and arrested 24 people for misdemeanor violations including failure to disperse.
"Calling and sending emails to APD voicing your displeasure will NOT impact the outcome," the department posted on its Facebook page. "A decision whether or not to file charges rests with the District Attorney's office and is based on facts and evidence."
The marchers began in the Euclid and Palais area of west Anaheim where the shooting occurred and eventually moved into major streets. Protesters chanted "Hands up, don't shoot" as they marched through the city.
The LA Times is reporting that the demonstration occasionally strayed into violence as protesters threw rocks, kicked police cars and cursed at officers. Others also gathered outside the home of the off-duty officer.