Muslim-Americans pledge to protect Jewish sites after anti-Semitic vandalism & threats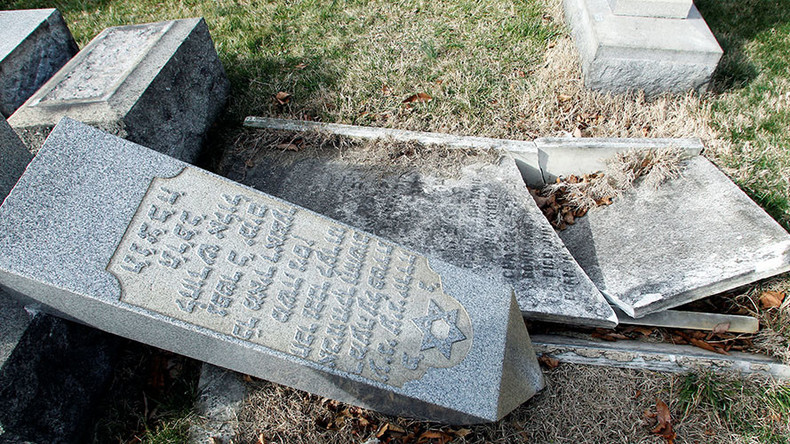 Following a spate of attacks and threats against Jewish cemeteries and centers, Muslims across the US are offering to protect Jewish sites and helping to clean up after premises are vandalized.
On Friday, the Anti-Defamation League said one person had been arrested by the FBI, the NYPD and the New York State Police in connection with bomb threats against the group and other Jewish organizations.
Jewish cemeteries in New York, St Louis, Texas and Philadelphia have been damaged in high profile attacks in recent weeks, with vandals knocking down hundreds of headstones and causing thousands of dollars worth of damage.
READ MORE: New York Jewish cemetery the third one vandalized in two weeks
As well as attacks on cemeteries, there have been more than 100 bomb threats reported by the Jewish Community Center (JCC) Association.
Earlier, New York Governor Charles Cuomo called for state police to launch an investigation into the vandalism of the Jewish cemetery in Rochester which was discovered on Thursday.
In response to the apparent wave of anti-Semitism, many Muslims have taken to social media to offer support to the Jewish community. Tayyib Rashib, a former US marine, tweeted: "If your synagogue or Jewish cemetery needs someone to stand guard, count me in. Islam requires it."
Rashib's tweet quickly received support, sparking numerous similar offers. People of no religious faith also offered to help.
On Friday Rashib tweeted that he and other Muslims helped clean-up following Thursday night's attack in Rochester, New York.
The JCC Association also tweeted a letter of support it received from the Valley Ranch Islamic Center in Texas.
In late February two prominent Muslim activists, Linda Sarsour and Tarek El-Messidi, set up a crowdfunding campaign which raised more than $156,000 for repairs to a Jewish cemetery in Texas.