Vast majority of media coverage on Trump's first month in office 'hostile' – study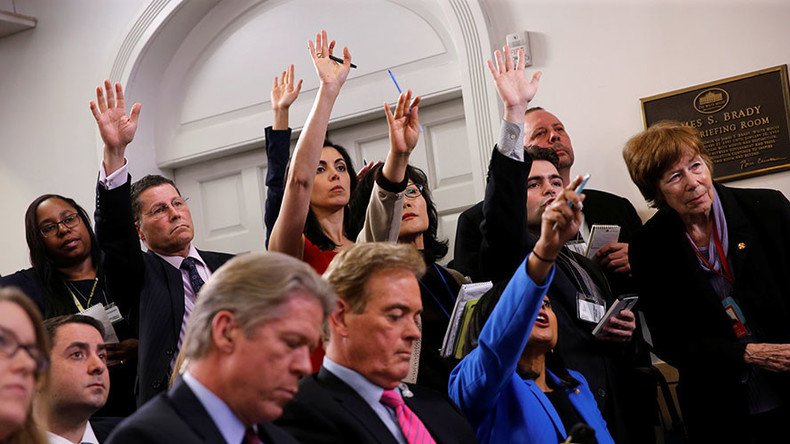 Media coverage of President Donald Trump during his first month in office has been round-the-clock and a new study has found it's been negative nearly 90 percent of the time.
On Wednesday, the conservative media watchdog Media Research Center (MRC) released its findings which showed that 88 percent of news coverage during the president's honeymoon phase was "hostile."
For their work, research director Rich Noyes and analyst Mike Ciandella examined news coverage from the "Big Three" evening news networks, ABC, CBS, and NBC.
Between January 20 and February 18, Noyes and Ciandella found that 16 hours were devoted to covering Trump and his administration, which they say is more than half, 54 percent, of the total news coverage.
Out of the 16 hours of coverage, the inquiry revealed that 88 percent of it was negative.
The analysis focused on the tone and content of statements made by reporters, newscasters, and "non-partisan talking heads," which included "experts and average citizens," while excluding soundbites from "identified partisans."
One of the main sources of hostility came from newscasters, who "often injected their own anti-Trump editorial tone into the coverage," the research says.
Noyes and Ciandella cite comments from CBS Evening News anchor Scott Pelley, who began his broadcast on February 6 by saying, "It has been a busy day for presidential statements divorced from reality," as an example of the hostile tone.
Pelley's comments were in reference to various claims from the Trump administration that the media was not properly covering terrorist attacks, that millions voted illegally in the 2016 election, and a tweet from the president saying, "Any negative polls are fake news."
Noyes and Ciandella also say the media's coverage of average citizens has been unbalanced, claiming that network stories were "crowded" with quotes from citizens who were angry about many of Trump's policies, while they provided "relatively little airtime to Trump supporters."
Trump's executive order, banning immigrants from seven mainly-Muslim countries was the most covered topic of the Trump administration during his first month, according to the study. The so-called 'Big Three' spent more than three hours or about 20 percent of all Trump coverage on the ban.
Much of the reporting on the travel ban was negative, according to the review, which cited comments from NBC's Lester Holt on January 30. Holt began the broadcast claiming critics were calling the ban "a solution in search of a problem, and an unconstitutional and thinly-disguised ban on Muslims."
The Big Three also spent 62 minutes covering Trump's other immigration policies, including the border wall with Mexico, sanctuary cities and the deportation of undocumented migrants, according to the study. They say that the majority of that coverage was "sympathetic to those newly at risk for deportation."
The inquiry went on to say that the media gave anti-Trump protests 56 minutes of coverage, which they say highlights "the hostile tone of these newscasts."
The MRC's home page hosts a video that outlines their problems with news organizations, which they say are "overwhelmingly liberal" and "make no effort to balance their leftist worldview with conservative viewpoints."
The MRC also conducted research during the 2016 presidential campaign that found in the 12 weeks following the party conventions, 91 percent of coverage on Trump was also "hostile."
You can share this story on social media: