Sessions 'will recuse himself from Russia investigation if necessary' - report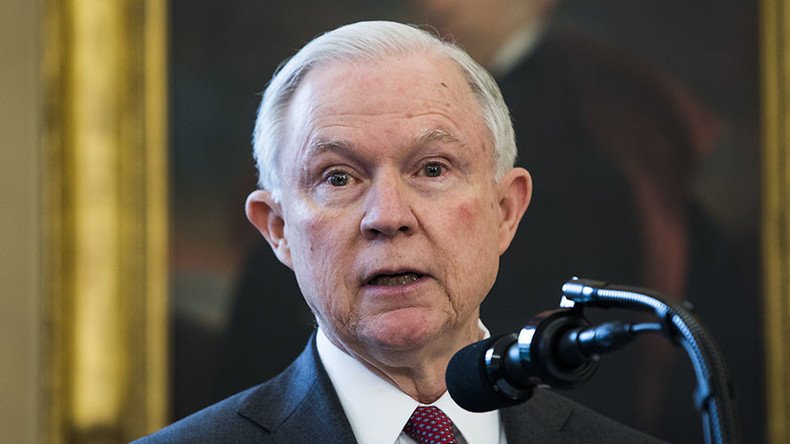 Attorney General Jeff Sessions has denied discussing "any political campaign" with Russian representatives.
The comments come after calls for him to resign over allegations he lied under oath during his confirmation hearing about his contact with Russians. Speaking to NBC, Sessions said "I have not met with any Russians at any time to discuss any political campaign and those remarks are unbelievable to me and are false."
READ MORE: 'Sessions lied': Top Democrat calls for US Attorney General to resign over alleged Russia ties
Sessions added that he would recuse himself from the 'Russia investigation' if it came to that, NBC reported.

On Wednesday a congressional committee agreed to an investigation into Russia's alleged "targeting the 2016 U.S. election."
READ MORE: US House intel panel approves scope of probe into 'Russian activities in US elections'
According to a statement from the US House of Representatives Permanent Select Committee on Intelligence, one of the questions being investigated is "Did the Russian active measures include links between Russia and individuals associated with political campaigns or any other U.S. Persons?"
Off-camera on Thursday, Sessions reportedly told journalists that "whenever it's appropriate I will recuse myself, there's no doubt about that."
The attorney general has been accused by House Minority Leader Nancy Pelosi of lying under oath when, during his confirmation hearing, he told Senator Al Franken that he did not have communications with Russian officials during Donald Trump's election campaign.
READ MORE: Russian Embassy brushes aside Sessions contact allegation
Sources, allegedly from the Justice Department, told the Washington Post that, despite his answer at the confirmation hearing, Sessions had in fact spoken to Russian Ambassador to the US Sergey Kislyak twice last year.
Sessions' latest comments echo an earlier response by DoJ spokeswoman Sarah Isgur Flores, who said: "He was asked during the hearing about communications between Russia and the Trump campaign — not about meetings he took as a senator and a member of the Armed Services Committee."
Pelosi has been joined by a number of Democrats, including Senator Elizabeth Warren, in calling for Sessions to reign and for a bipartisan investigation into Donald Trump's alleged ties to Russia.
You can share this story on social media: