Democrats who sat through Trump tribute to fallen Navy SEAL blasted online (VIDEO)
Published time: 1 Mar, 2017 15:43
Edited time: 2 Mar, 2017 15:18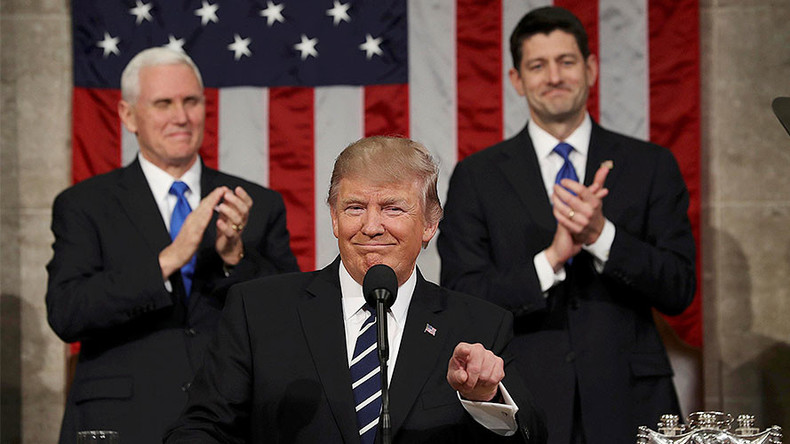 Democrats have been blasted online for remaining seated during a tribute from President Donald Trump for fallen US Navy SEAL William 'Ryan' Owens in which Congress gave a standing ovation. Military chiefs also sat during the applause as Owens' widow wept.
Trump paid tribute to the slain Navy special operator in the presence of his widow Caryn Owens during a joint session of Congress.
Owens, who was killed in a Yemen raid on January 29, was the first US serviceman to die in combat during the Trump administration. At least 25 civilians were also killed in the raid and a $70 million US military helicopter was also destroyed.
"I just spoke to General [Jim] Mattis, who reconfirmed that, and I quote, 'Ryan was part of a highly successful raid that generated large amounts of vital intelligence that will lead to many more victories in the future against our enemies.' Ryan's legacy is etched into eternity," Trump stated, prompting the attendees to commence a lengthy standing ovation.
However, a number of Democrats remained sitting during the two-minute standing ovation prompting sharp criticism from some online. It appeared some Democrats, including Bernie Sanders, initially stood in applause but sat down as it continued.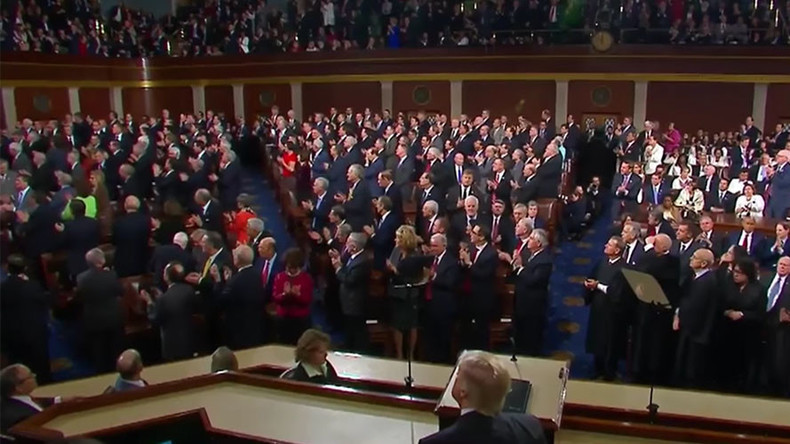 Others accused Trump of exploiting the situation and suggested the Democrats' refusal to stand may have been an objection to this.
Just imagine Lincoln exploiting a soldier's death so shamelessly for partisan end. Or Eisenhower, Reagan or either Bush.

— (((Steve Chapman))) (@SteveChapman13) March 1, 2017
Twitter TL reaction to Ryan Owens moment:

Press: how powerful and moving

Veteran friends: this is gross and uncomfortable

— Soldier Jane (@sgtjanedoe) March 1, 2017
Hard for Democrat leadership to sit on their hands and claim exploitation of Owens by Trump after trotting Khizr Kahn on stage.

— Stephen Miller (@redsteeze) March 1, 2017
The Democrats remained seated during most of Trump's congress address, offering only a muted reaction to the president's announcements.

Owens father, William, previously refused to meet with Trump during the transfer of his son's body. "I told them I didn't want to make a scene about it, but my conscience wouldn't let me talk to him," Mr Owens told The Miami Herald.
He also criticized the timing of the anti-terrorism mission in Yemen: "For two years prior, there were no boots on the ground in Yemen — everything was missiles and drones — because there was not a target worth one American life. Now, all of a sudden we had to make this grand display?"
The Pentagon has insisted that the raid produced "actionable intelligence," but this has been disputed by defense officials who spoke to NBC News.
READ MORE: Deadly Yemen raid resulted in no valuable intel – officials