Avoiding misperception? State Dept deletes Twitter post congratulating Iranian Oscar winner
Published time: 28 Feb, 2017 10:07
Edited time: 28 Feb, 2017 10:17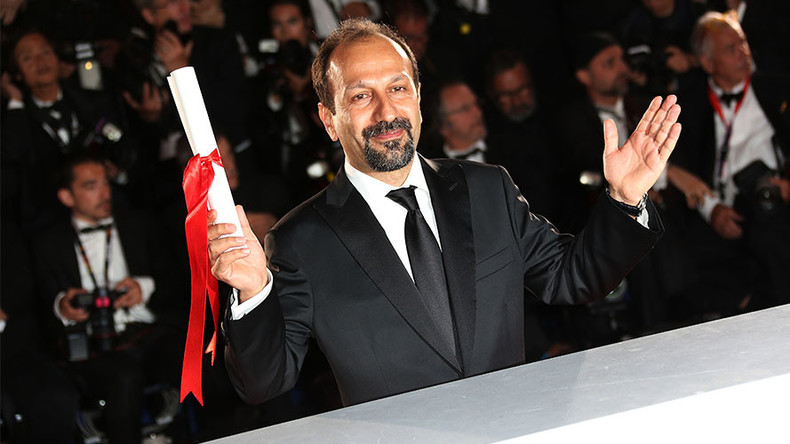 The US State Department has removed a tweet congratulating Asghar Farhadi on winning the Oscar for Best Foreign Language Film. The director had refused to show up at the Academy Awards, slamming President Trump's earlier imposed travel ban as "inhumane."
The State Department's official Persian-language Twitter account, @USAdarFarsi, initially sent congratulations to both the Iranian people and the director of The Salesman, Farhadi, after his powerful drama won an Oscar on Sunday.
According to screenshots circulating on Twitter, the @USAdarFarsi account posted the congratulatory message around 1am EST. The text was then deleted.
"A congratulatory tweet was posted," a State Department spokeswoman told Reuters, adding "we later removed the post to avoid any misperception that the USG [US government] endorsed the comments made in the acceptance speech."
Another State Department official said the decision to dump the tweet had been made within the department.
Farhadi, 44, was among those denied entry to the United States after Donald Trump signed an executive order late last month banning foreign citizens from Syria, Iraq, Sudan, Libya, Somalia, Yemen, and Iran from entering the US for 90 days. In early February, a federal judge issued a temporary nationwide restraining order that blocked the enforcement of the controversial executive order.
The acclaimed filmmaker said he would boycott the Oscars even if an exception was made for him, however.
Trump's Muslim ban presented "ifs and buts which are in no way acceptable to me, even if exceptions were to be made for my trip," Farhadi said in an interview with the New York Times late last month.
His outspoken speech at the 89th Academy Awards in Los Angeles was read by Iranian-American engineer and astronaut Anousheh Ansari, who accepted the trophy on Farhadi's behalf.
"I'm sorry I'm not with you tonight" it read. "My absence is out of respect for the people of my country and those from other six nations who have been disrespected by the inhumane law that bans entry of immigrants to the US. Dividing the world into the US and our enemies categories creates fear – a deceitful justification for aggression and war," the statement said.
In 2012, Farhadi won an Oscar for A Separation and dedicated the coveted award to the Iranian people.
"I proudly offer this award to the people of my country, the people who respect all cultures and civilizations, and despise hostility and resentment," Farhadi said in accepting that award onstage.