San Jose Mayor admits failures in flood response as evacuation orders continue
Published time: 23 Feb, 2017 15:19
Edited time: 25 Feb, 2017 12:51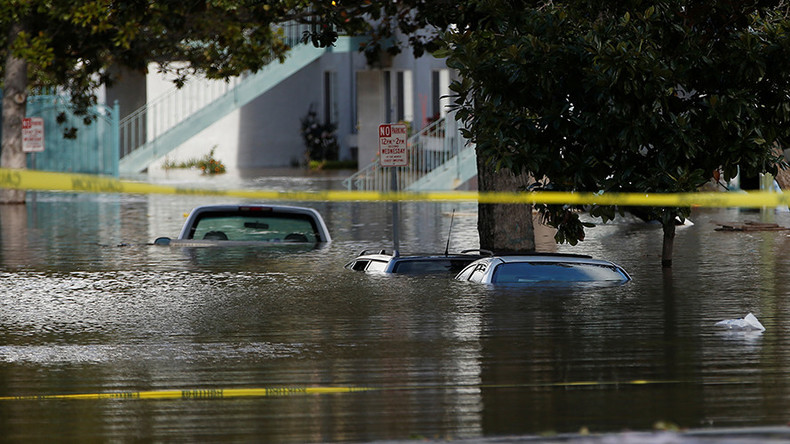 Major storms are beginning to subside in California, but residents of San Jose are being warned to keep away from affected homes until water levels decrease to a safe level.
Flash floods along the west coast of the US have seen thousands of people forced to leave their homes and a state of emergency declared by California governor Jerry Brown.
The majority of mandatory evacuation orders have now been downgraded for areas including Sutter County around the Oroville Dam Spillway, which threatened to collapse during the floods.
However, San Jose, the 10th largest city in the US, remains one of the most substantial urban regions affected, with 36,000 homes estimated to be hit by floodwater, report the San Francisco Gate.
City Mayor Sam Liccardo has admitted failures in the official response to the storm crisis.
"If the first time that a resident is aware that they need to get out of a home is when they see a firefighter in a boat, then clearly something went wrong," Mayor Sam Liccardo said, report KQED News.
"We are assessing what it is that led to that failure."
READ MORE: 4 die in California storms, state of emergency declared
Meanwhile, the local government of San Jose has issued an emergency alert declaring that while flood water is creeping back, residents should not return to their homes until authorities deem it safe to do so.
The notice informs people to be wary of live electrical units in flooded buildings and structurally unsound walls.
"Water is beginning to subside, however, levels are still high. Many areas are still unsafe to access. The City continues to send in teams to assess damage and determine when it is safe for residents to return to their homes," read a San Jose government emergency alert.
"Flood water and homes, cars, and belongings that have been flooded should be treated as contaminated."
Evacuation notices are still in place in the Oakland and Rock Springs Area of San Jose. A map of the areas still out of bounds for people has been listed on the San Jose government website.
Meanwhile, homes to the south of the city near Lexington Reservoir and Anderson Lake remain in flood danger zones.
Weather reports by the United States Geological Survey suggests a rain respite in California until Sunday, when another "storm system is predicted to bring 1-3 inches [2.5cm to 7.5cm] of rain to the regions on Sunday."
READ MORE: 'Glory Hole': California storms see return of bizarre lake phenomenon (VIDEO)
The agency say the area remains on alert with streamgages reporting river flows 90 per cent above the normal levels in parts of California, like on the Sacramento and San Joaquin Rivers.