Federal hiring freeze shuts down 2 Army base childcare centers
Published time: 23 Feb, 2017 02:12
Edited time: 23 Feb, 2017 12:47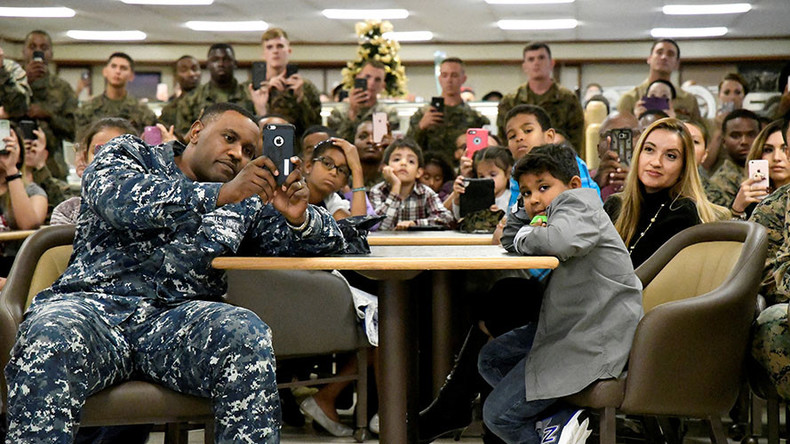 President Donald Trump's executive order to freeze all new hiring of federal employees is having a negative impact on the life of soldiers' families. Families who depend on childcare centers were left in the lurch after staff shortages shut them down.
Parents at two childcare centers on bases were given less than a month to find other arrangements after the short-staffed centers notified them that they would not be operating come March 1.
On Wednesday, US Army Garrison Wiesbaden in Germany notified parents that February 28 would be the last day that the child development center (CDC) would be able to accommodate part-day care for children on the base.
"This closure is a result of staff shortage due to the Federal Hiring Freeze," wrote the commanding officer of the garrison, Col. Todd J. Fish. "This Hiring Freeze prevents [Child and Youth Services] from replacing staff who depart for any reason to include normal rotation."
There are 700 CDCs for hourly, part-time, full day and extended duty day care that are all run by the Department of Defense (DoD), according to the Military Times.
Last Friday, parents at Fort Knox in Kentucky learned that the child development center was no longer accepting new enrollments, effective immediately.
"Also, effective 27 February 2017, the CDC will no longer accommodate childcare for our hourly care and part-day families until further notice," a letter to parents read.
Trump's executive order on federal hiring was signed on January 23 and was meant to have exemptions for the military. Neither base responded to media inquiries over whether or not they had pursued the exemption to keep their CDCs open. However, the DoD told the Military Times that "the service branches still must seek approval to hire workers to fill those positions when they become vacant."
This can create a delay in hiring which, according to testimony from the executive director of the National Military Family Association, Joyce Raezer, is "lengthy and arduous." On February 14, Raezer testified to the Senate Armed Services Committee's personnel panel that "it can be difficult for CDC directors to find, hire, and put into place qualified staff."
While Raezer asked the Senate subcommittee to streamline the hiring process, Sergeant Major of the Marine Corps Ronald Green blamed the low wages the job offered for the vacancies.
As the bases battle over the ramifications of the hiring freeze, it is potentially hurting veterans elsewhere. In 2015, veterans made up almost 31 percent of all federal employees and 32 percent of all new hires for the federal government, according to the US Office of Personnel Management.