DAPL protesters set tents ablaze ahead of camp evacuation deadline (VIDEOS)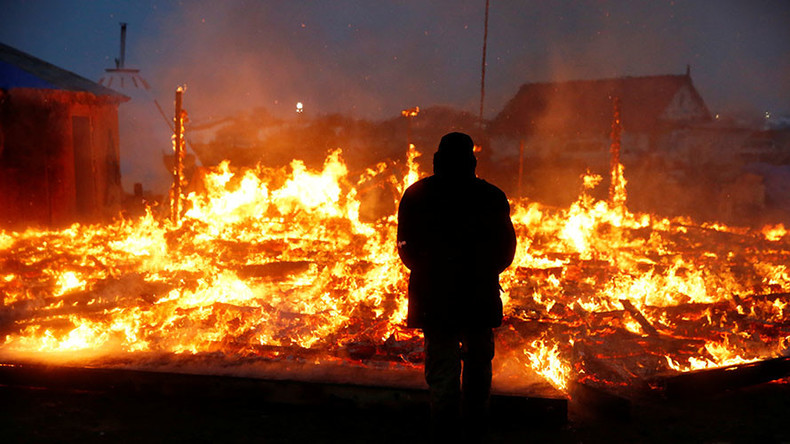 Dakota Access Pipeline protesters have started setting fire to their camp ahead of an enforced evacuation deadline Wednesday.
Earlier, several demonstrators declared they would not leave the site and instead were bracing for a stand-off with law enforcement.
Video footage from the scene shows a heavy law enforcement presence including local police, US Park Rangers and Federal Wildlife Officers.
Since last August, the Oceti Sakowin camp in North Dakota has served as the base of operations for many Native Americans and environmental activists as they protested the pipeline project which they say threatens the water supply of the Standing Rock Sioux Tribe.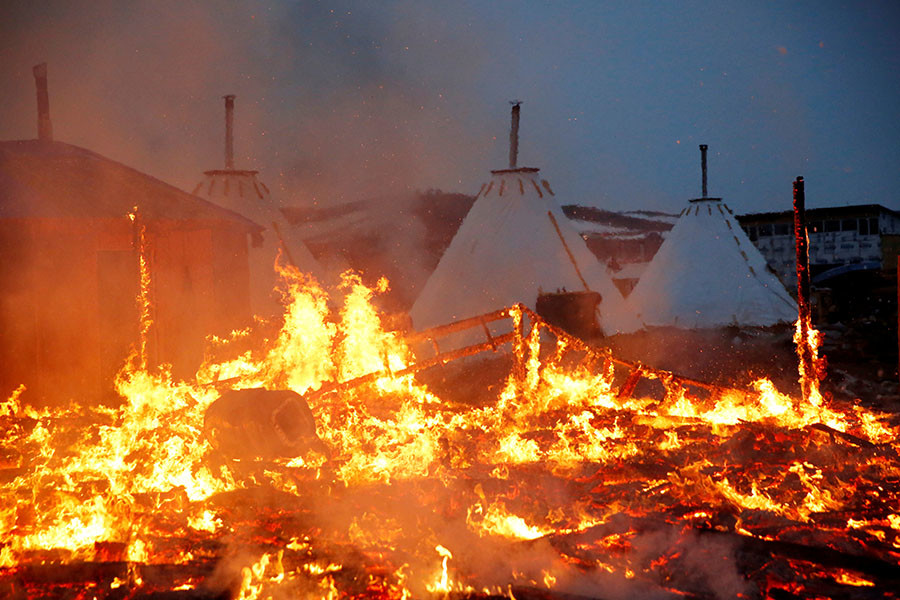 READ MORE: Multi-billion dollar investors urge bankers to divest from #DAPL
The tribe says the pipeline is being constructed on sacred Native American land and will pass through Lake Oahe, their primary source of drinking water. If completed, the $3.8 billion pipeline project will carry oil from northwest North Dakota to Illinois, passing through South Dakota and Iowa.
Citing concerns over spring flooding and environmental risks from "human waste generated" by the camp population, North Dakota Governor Doug Burgum and the US Army Corps of Engineers set a deadline of 2pm (20:00 GMT) Wednesday for activists to vacate the camp in Cannon Ball, North Dakota. The camp sits on Army Corps land.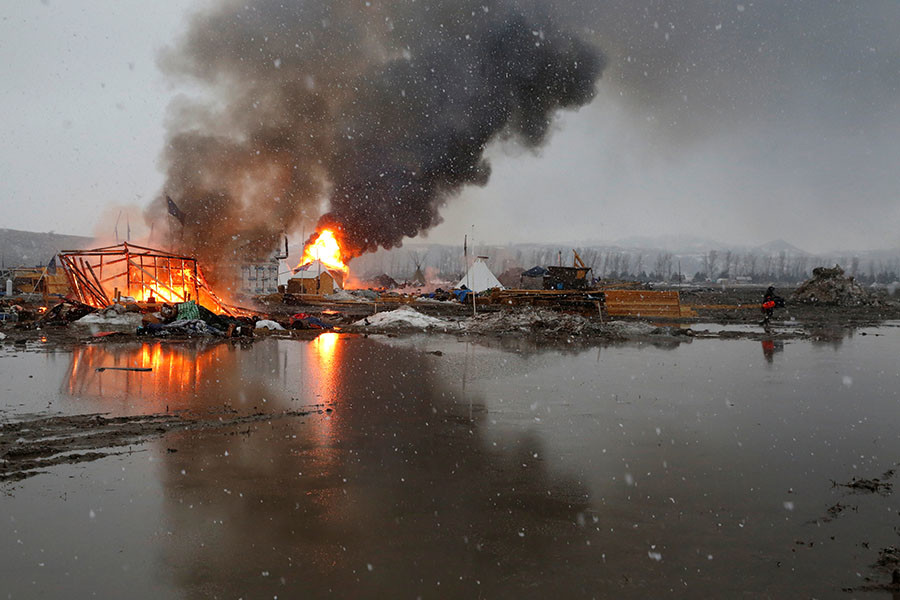 However some of the protesters said they would not leave the land, setting the scene for a potential showdown with police. There have already been occasional clashes between police and protesters at the camp site.
READ MORE: Army veterans forming human shield to protect NoDAPL protesters at Standing Rock
Protest leaders have said that approximately 300 people remain at the camp ahead of Wednesday's evacuation. "A lot of them are going to stay and they're not going to give up, no matter what army they bring in to make people back off," one of the camp's leaders Lewis Grassrope told Newsweek.
Thank you to all the people at #StandingRock for your leadership, strength, hope and sacrifice. Thank you for sustaining for all of us.

— Mark Ruffalo (@MarkRuffalo) 22 February 2017
A spokesperson for the Morton County Sheriff's Department, Maxine Herr told USA Today earlier they were aware of some protesters' plans to remain: "There are certainly those that are planning to stay. As much as they are tearing down, they are building."
Representatives from the governor's office have laid out the plan for evacuating the camp.
"The first priority is life health and safety of everyone in this camp as it relates to potential flooding, and the second is preventing an environmental disaster by getting this camp cleaned up as quickly as possible," Governor Burgum's Policy Advisor Levi Bachmeier told local Fox TV station KFYR.
Bachmeier said the state and the Army Corps will do everything possible to help people leave the site before the deadline by providing buses.
He added that a safe zone would be established south of the camp.
A police notice for vacating the camp says buses will take people who are willing to leave to a "Travel Assistance Center" in Bismarck, North Dakota, where they will get a free health and wellness check-up, a personal hygiene kit and hotel and bus vouchers.
You can share this story on social media: