'Year of kicking Russia in the ass': US Senator Graham urges more Russia sanctions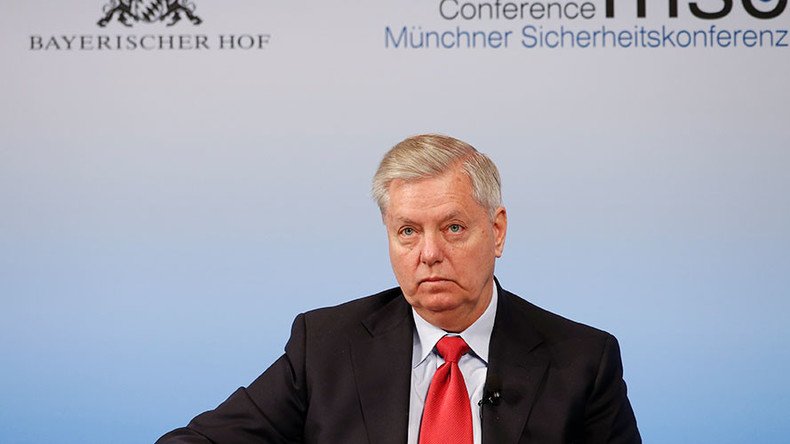 Senator Lindsey Graham (R-SC) has said that 2017 is going to be "the year of kicking Russia in the ass" as he threatened Moscow with a new round of sanctions over Moscow's alleged US election interference.
Speaking at the Munich Security Conference on Sunday, the Republican senator referred to accusations by both Republicans and Democrats: that Kremlin-backed hackers conspired to rig the 2016 US presidential election at the expense of Hillary Clinton, adding that a bipartisan investigation is due to get underway.
"If you're worried that we're not going to look long and hard at what Russia did in our election because Trump won and the Republicans are in charge, you don't need to worry about that," the South Carolina lawmaker told delegates from around the world. "I promise everybody in this room that Congress is going to take a long, hard look at what Russia did to undermine our elections, so they'll be better prepared when they come your way."
If the investigation turned up any evidence of Russian interference there would be consequences, Graham warned.
"So we've introduced Russia sanctions for interfering in our election, apart from what they did in Crimea, we're going to have a vote on it.
It's going to be bipartisan, we're going to get north of 75 votes and my goal is to put it on Trump's desk and I hope he will embrace the idea that as the leader of the free world, he should be working with us to punish Russia."
Graham said he believed Moscow would try to influence the upcoming elections in Europe. "To our German friends, you're next. To our friends in France, they're coming after you. And to my friend Mr. Lavrov, I hope you finally suffer some consequences for what you and your regime have been doing to democracies, and 2017 is going to be the year of kicking Russia in the ass in Congress," he told delegates at the Bayerischer Hof Hotel on Sunday.
Moscow has consistently denied all allegations of any state-backed hacking while cybersecurity and intelligence experts have said there is no evidence for these claims.
"If I was the Chinese and I wanted to make it look like the Russians did it, I would use Russian language within the code, I would use Russian techniques of breaking into the organization," cybersecurity pioneer John McAfee told RT in December, adding that "there simply is no way to assign a source for any attack."
You can share this story on social media: