'Good times, money following': CNN president praises Trump-bashing agenda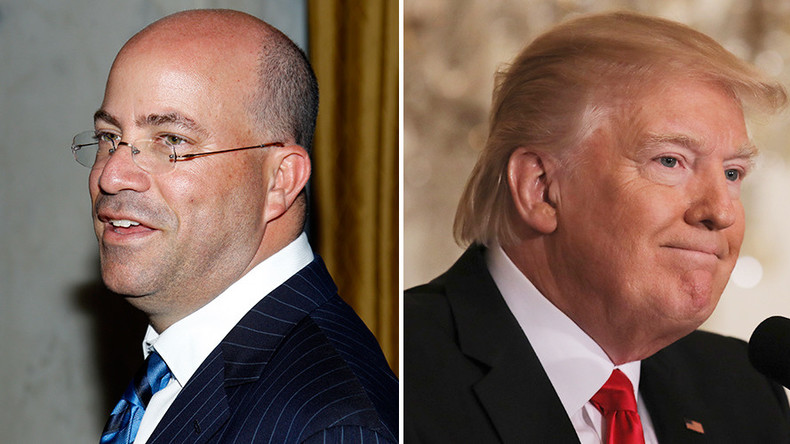 CNN's Jeff Zucker has gone on the offensive defending against President Donald Trump's attacks of being "very fake news," saying the aggressive anti-Trump agenda only serves to boost his employees' morale and they wear it as "a badge of honor."
Zucker's remarks to Politico came just as Trump had wrapped up a heated press conference Thursday, during which he sparred with the network's Jim Acosta.
Acosta's bout with Trump related to the freshly-elected president having branded CNN as "fake news." Trump actually only ended up telling the CNN host: "I'm changing it from 'fake news' to 'very fake news'."
While on FAKE NEWS @CNN, Bernie Sanders was cut off for using the term fake news to describe the network. They said technical difficulties!

— Donald J. Trump (@realDonaldTrump) February 12, 2017
Zucker, the channel's head, however, did not look too dissatisfied with such a poor endorsement.
"They wear those insults as a badge of honor, because it means they are doing their jobs," Zucker told Politico. "I would say that morale is incredibly high ... They are not being intimidated, they are not backing down, they know they have my full support and it is a very exciting time, frankly, to be a journalist at CNN."
Zucker went on to say that the only downside to working for CNN at the moment is sheer worker exhaustion from all the overtime journalists and reporters have been putting in to hold the president of their country to account.
"The pace has been nonstop, and it has not let up."
Zucker says he was concerned that CNN's popularity may have taken a nosedive, especially as, according to Medialife Magazine, its ratings were worse five months ago than even MSNBC, or sworn enemy Fox News. The CNN head ordered a brand review in January to assess how attacks on it have impacted on its reputation.
He tells Politico the network is as strong as ever, and "incredibly trusted. We have seen no impact whatsoever in all those attacks on the CNN brand." He noted that this year, the 25-54 age demographic put both CNN and Fox up by 50 percent over what ratings were last year in the same period.
According to Zucker, the back-and-forth between Trump and the network actually is one of the main factors generating views and revenue.
Revenue was up as well, with advertising last year making record dollars, according to Turner network President David Levy, as cited by Politico.
"These are very good times for us, and the money is following," Zucker concluded.
You can share this story on social media: