Lawmakers introduce bill to block Trump from lifting Russia sanctions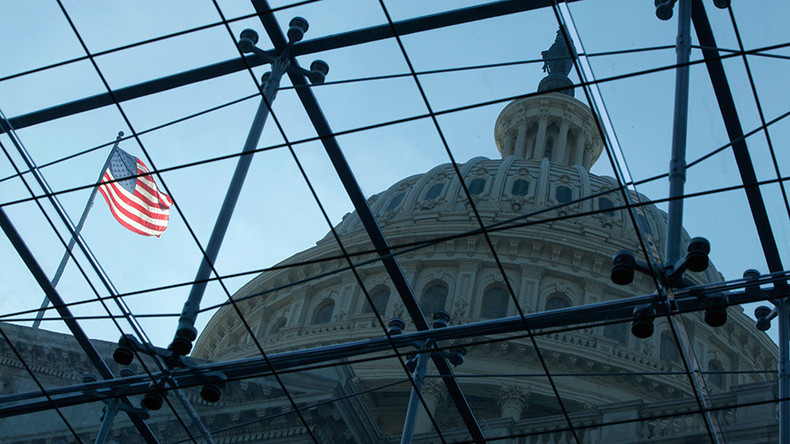 Democrats and a handful of Republicans in Congress have submitted a bill that would block President Trump from lifting the anti-Russian sanctions imposed by the Obama administration, despite the White House showing little movement in that direction.
The measure, which was first announced last week, moved forward on Wednesday, when identical bills were submitted to both chambers of Congress that would give lawmakers 120 days to block any move to lift anti-Russian sanctions using a congressional oversight mechanism based on the 2015 nuclear deal with Iran.
READ MORE: US senators trying to gain veto power that could block Trump from lifting sanctions on Russia
"Every American, every Republican, every Democrat is concerned about Russia and what they have been doing to violate international law, not to mention the criminal behavior they may be pursuing and are pursuing, we believe, in Syria," Democratic Minority Whip Steny H. Hoyer said at a media conference.
None of the Republican representatives sponsoring the legislation, who include Adam Kinzinger, Tom Rooney, and Mike Turner, showed up for the news conference, with their offices citing scheduling conflicts.
In the Senate, the bill is supported by Republicans John McCain and Lindsey Graham, both of whom have been the objects of scalding criticism from Donald Trump for opposing his executive order imposing a travel ban on seven predominantly Muslim countries.
The Russia Sanctions Review Act would need to win a majority in both chambers and be signed into law by Trump to come into force, giving it shaky prospects. Democrats would need overwhelming support from Republicans, who currently hold a majority in both the House and the Senate, to overcome a presidential veto.
The US has imposed several rounds of sanctions on Russian entities, citing Moscow's acceptance of Crimea's request to become part of Russia after a referendum and alleged interference in eastern Ukraine. More recently, the US has justified new restrictions by accusing Russia of meddling with the US presidential election, while failing to offer any concrete proof.
Russia denies the latter two charges and considers Crimea's decision to rejoin Russia a lawful development under the principle of self-determination.
You can share this story on social media: