'Focus on ISIS, not starting WWIII': Trump blasts Senators McCain & Graham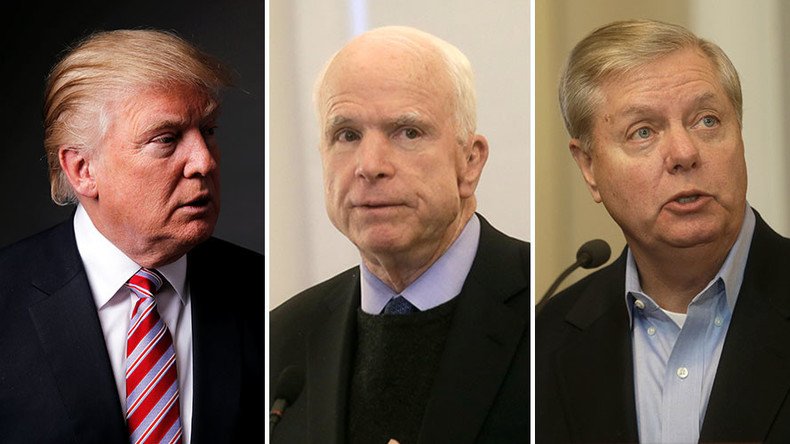 The latest targets of US President Donald Trump's ire are fellow Republican Senators John McCain & Lindsey Graham, who Trump says should focus on important issues "instead of always looking to start World War III."
READ MORE: Trump's 'Muslim ban' fallout Live Updates

The joint statement of former presidential candidates John McCain & Lindsey Graham is wrong - they are sadly weak on immigration. The two...

— Donald J. Trump (@realDonaldTrump) January 29, 2017
...Senators should focus their energies on ISIS, illegal immigration and border security instead of always looking to start World War III.

— Donald J. Trump (@realDonaldTrump) January 29, 2017
The president tweeted the rebuke in response to a joint statement by veteran GOP legislators who criticized Trump's executive order placing a temporary travel ban on seven predominantly Muslim countries. McCain and Graham said the move was hasty and "not properly vetted," and may ultimately work contrary to the stated goal of improving national security.
"This executive order sends a signal, intended or not, that America does not want Muslims coming into our country. That is why we fear this executive order may do more to help terrorist recruitment than improve our security," the statement said.
The Republican hawks joined the loud chorus of largely left-wing condemnation of the executive order, commonly known as the 'Muslim ban' by critics. McCain and Graham have criticized Trump on a number of issues, including his plans to work alongside Russia in fighting terrorism in Iraq and Syria. The senators consider Russia a major threat to America.
I know we're all supposed to love McCain & Graham now but it is true that their policy desires would have started WW3 multiple times by now.

— Glenn Greenwald (@ggreenwald) January 29, 2017
In addition to accusing McCain and Graham of being warmongers, Trump issued a statement defending his decision to impose the travel ban.
"The seven countries named in the Executive Order are the same countries previously identified by the Obama administration as sources of terror. To be clear, this is not a Muslim ban, as the media is falsely reporting," the statement said.
"This is not about religion – this is about terror and keeping our country safe. There are over 40 different countries worldwide that are majority Muslim that are not affected by this order. We will again be issuing visas to all countries once we are sure we have reviewed and implemented the most secure policies over the next 90 days," it added.
Critics accuse President Trump of hypocrisy for citing the 9/11 terrorist attacks as an example of what he hopes to prevent with the travel ban. The perpetrators of the plane hijackings were nationals of Saudi Arabia, the United Arab Emirates, Egypt, and Lebanon, but none of the countries were affected by the executive order.
You can share this story on social media: