'It's not bigoted': Arkansas may seek constitutional convention banning same-sex marriage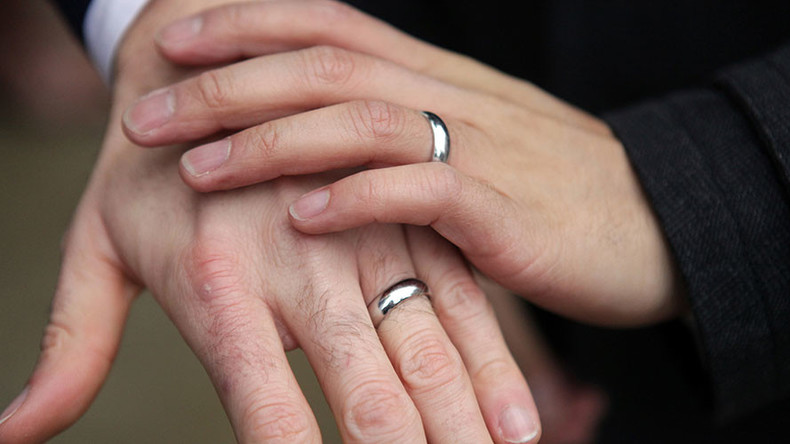 Only heterosexual love is in the air in the Arkansas Senate this Valentine's Day, as lawmakers convened a hearing to decide whether to ask the US Congress to amend the Constitution to define marriage as between one man and one woman.
The committee hearing considered Senate Joint Resolution 7. If passed by the Arkansas legislature, it would ask Congress "to call a convention for proposing an amendment… prohibiting the United States Constitution or the constitutions or laws of any state from defining or construing the definition of 'marriage' to mean anything other than the union of one man and one woman."
State Senator Jason Rapert (R-Conway), an evangelical Christian who also serves as president of Holy Ghost Ministries, introduced the resolution on February 2. He also proposed another constitutional amendment defining life as beginning at conception.
Article V of the US Constitution outlines the steps for amending the country's founding document. Such an amendment must be proposed by Congress with a two-thirds majority in both chambers or via a constitutional convention called for and ratified by two-thirds of state legislatures.
"The federal courts cannot stop 34 states from calling for the amendment. If 38 states ratify the amendment as proposed, marriage between one man and one woman shall be restored in America," Rapert wrote on Facebook.
None of the Constitution's 27 amendments were proposed by a constitutional convention.
Gay marriage has been the law of the land since June 2015, when the US Supreme Court ruled in Obergefell v. Hodges that the equal protection clause of the Fourteenth Amendment requires all states to license same-sex marriages. The 5-4 decision sounded the death knell for the Defense of Marriage Act, which was signed into law in 1996. It defined marriage as being between one man and one woman at a federal level.
"A court just out of the clear blue decided to carve this new right," Rapert told KATV, after he filed the resolution. "I think the country now knows the silent majority is out there and they spoke during the 2016 election, and they're going to speak again."
As of May 2016, a record 61 percent of Americans believed that same-sex marriages should be recognized by law as valid, according to a Gallup poll.
"It is not bigoted to say that marriage is between a man and a woman," Rapert said later in the interview.
While Republicans do have majorities in both the House of Representatives and the Senate, they do not have the two-thirds majorities in either to pass a constitutional amendment without help from Democrats, who support gay marriage. The GOP fully controls 25 state governments ‒ meaning the governorship and majorities in both legislative chambers ‒ and partial control of 20 more states.
Although President Donald Trump would not have any say in a potential constitutional amendment process, he has said that the issue of gay marriage is "settled."
"These cases have gone to the Supreme Court. They've been settled. And I'm — I'm fine with that," he told CBS News' Lesley Stahl after he was elected.
However, Trump does not appear to hold the same view for abortion or a woman's right to bodily autonomy; issues that the Supreme Court ruled on in 1973. In the same '60 Minutes' interview, the president implied that he will push for an anti-abortion position by appointing "pro-life judges." When faced with the direct question if some women won't be able to have an abortion, he was evasive, saying that "it's a long way to go" and "it'll go back to the states."
"A person begins to form from the moment of conception and should be afforded the full protection of any other person in our nation," Rapert wrote in a Facebook post about the anti-abortion amendment. "I cannot sit by while millions of little humans are killed as if they are worthless - nearly 60 million since Roe V. Wade in 1973."
You can share this story on social media: