Drug smuggling TSA and airport employees shipped 20 tons of cocaine in 18 years - DOJ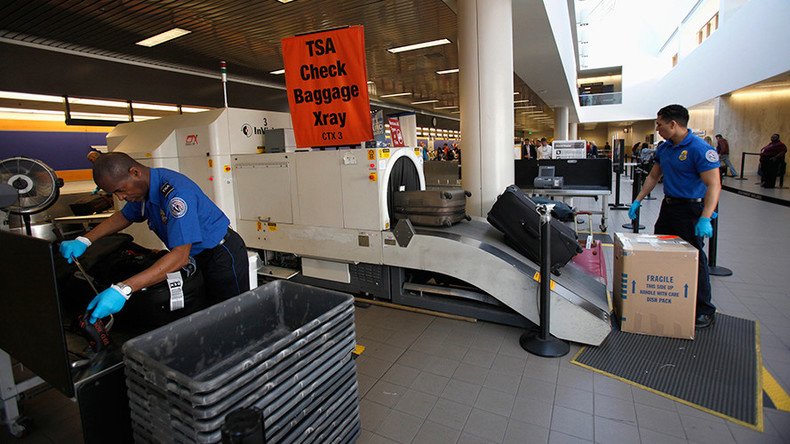 Twelve current and former TSA officers and airport staff are facing possible life sentences after being indicted on an alleged drug trafficking operation that smuggled 20 tons of cocaine into the US through Puerto Rico over an 18-year period.
The US Department of Justice announced the charges on Monday, following a federal grand jury's indictment in Puerto Rico last Wednesday.
From 1988 to 2016, about 40,000 pounds, or two tons, of cocaine went through Luis Muñoz Marín International Airport in San Juan, Puerto Rico, according to the DOJ.
The Transportation Security Administration's (TSA) current and former officers allegedly involved in the scheme are Luis Vázquez-Acevedo, Carlos Rafael Adorno-Hiraldo, Keila Carrasquillo, Daniel Cruz-Echevarría, José Cruz-López, and Antonio Vargas-Saavedra.
Vázquez-Acevedo is described as the middleman between drug trafficking organizations and the other TSA employees, who oversaw suitcases containing at least 8 to 15 kilograms of cocaine being dropped off at a check-in counter and then passed through X-ray machines before being loaded onto airplanes.
"This investigation was initiated by TSA as part of its efforts to address employee misconduct and specific insider threat vulnerabilities. TSA has zero tolerance for employees engaged in criminal activity to facilitate contraband smuggling," said José Baquero, federal security director for Puerto Rico and the US Virgin Islands, in the Monday press release.
Up to 10 suitcases carried by five "drug mules" may have flown together on a single plane, the DOJ alleged.
The bust was a result of an Airport Investigations and Tactical Team (AirTAT) investigation, a 2-year-old multi-agency initiative.
Other defendants named in the announcement were Edwin Francisco Castro, Tomas Dominguez-Rohena, Ferdinand López, José Gabriel López-Mercado, Javier Ortiz and Miguel Ángel Pérez-Rodríguez.
All 12 could be behind bars for a minimum of 10 years or a maximum term of life if convicted.
The TSA and the Drug Enforcement Administration (DEA) are leading the investigation in cooperation with the Immigration and Customs Enforcement-Homeland Security Investigations (ICE-HSI), the Federal Bureau of Investigation (FBI), the US Marshals and the Police of Puerto Rico, according to the announcement.
Assistant US Attorney Stuart J. Zander is the head prosecutor, under the supervision of Assistant US Attorney Julia Díaz-Rex, the deputy chief of San Juan's International Narcotics Unit.
You can share this story on social media: