US-born NASA employee detained at airport, forced to hand over phone & pin code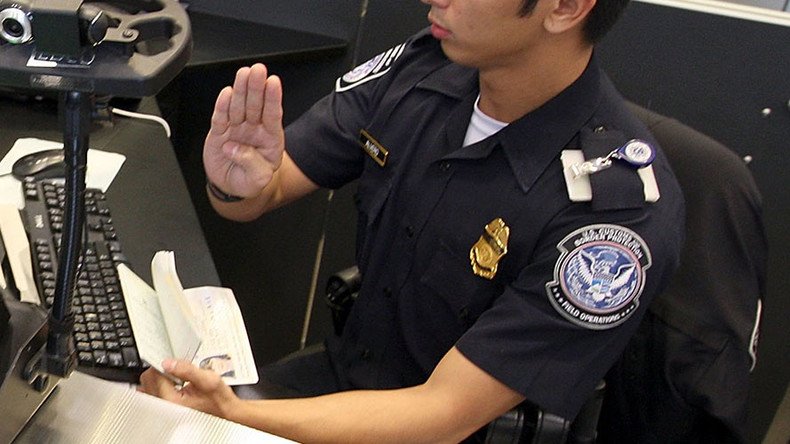 A US citizen who works for NASA received an unfriendly welcome upon re-entering his own country, detained by a Customs and Border Patrol (CBP) agent who forced him to hand over his phone and access code, despite the device containing sensitive NASA information.
Sidd Bikkannavar – who has worked for NASA's Jet Propulsion Lab (JPL) for the past 10 years – was expecting a speedy re-entry into the United States when he returned from South America on a personal trip, particularly because he is enrolled in the Global Entry program, which allows citizens to have expedited entry into the country after undergoing thorough background checks.
However, a smooth process wasn't at all what Bikkannavar received when he arrived at Houston's George Bush Intercontinental Airport on January 30 – just over a week into the Trump administration and shortly after the president's travel ban had been chaotically rolled out at airports across the country.
The scientist, whose expertise is on a type of optics technology which will be used on the upcoming James Webb Space Telescope, told The Verge that he was detained by CBP agents when he tried to enter the US after a trip to South America, where he had pursued his hobby of racing solar-powered cars.
An officer escorted him to a back room, and told him to wait for instructions. Around five other travelers were in the same room, asleep on cots.
About 40 minutes later, an officer called Bikkannavar's name.
"He takes me into an interview room and sort of explains that I'm entering the country and they need to search my possessions to make sure I'm not bringing in anything dangerous," Bikkannavar told The Verge.
The officer began asking questions about where the scientist was coming from, where he lives, and his title at work – despite the fact that such information should have been available to the agent, since Bikkannavar is enrolled in Global Entry.
"I asked a question, 'Why was I chosen?' And he wouldn't tell me," the NASA scientist said.
The officer then gave Bikkannavar a document titled 'Inspection of Electronic Devices,' and explained that CBP had the authority to search his phone. He also requested the PIN code needed to access the device.
Bikkannavar quickly showed the JPL barcode on the back of the phone, proving that it had been issued by NASA and therefore contained sensitive information.
"I was cautiously telling him I wasn't allowed to give it out, because I didn't want to seem like I was not cooperating," Bikkannavar said. "I told him I'm not really allowed to give the passcode; I have to protect access. But he insisted they had the authority to search it."
Left with no other choice, Bikkannavar surrendered his phone and the code, noting that the document given to him spoke of a number of consequences for failure to offer information.
"I didn't really want to explore all those consequences," he said. "It mentioned detention and seizure."
The officer walked away with the phone and returned 30 minutes later, ultimately handing the device back to Bikkannavar. However, the NASA scientist is not sure what happened while the phone was in the agent's possession.
Once Bikkannavar arrived in Los Angeles, where he lives and works, he told his superiors about his experience. Although he cannot comment on what may or may not have been on the phone, he told The Verge that JPL's cybersecurity team was not happy about the breach.
Bikkannavar has since been issued a new device and a new phone number.
While he was never told the reason why he was chosen for the search, Bikkannavar stressed that "it was not that they were concerned with me bringing something dangerous in, because they didn't even touch the bags. They had no way of knowing I could have had something in there."
"You can say, 'Okay well maybe it's about making sure I'm not a dangerous person,' but they have all the information to verify that," he continued.
Despite the incident occurring just after Trump's travel ban had taken effect, Bikkannavar should not have raised any red flags. He has not visited any of the countries listed on the immigration ban, and has worked at JPL for 10 years.
Bikkannavar said he understands his name is foreign, with its roots being traced back to southern India, but has never before experienced such a situation.
"Sometimes I get stopped and searched, but never anything like this. Maybe you could say it was one huge coincidence that this thing happens right at the travel ban," he said.
Trump's so-called travel ban, which barred citizens from seven mainly-Muslim countries from entering the US, has sown chaos in airports as multiple people who had arrived to the country were held at airports while travelers overseas were barred from boarding flights or were pulled off planes.
The order resulted in worldwide protests from people who claim it unfairly discriminates against people based on their faith. Trump, however, has maintained the ban has to do with national security, rather than religion. On Thursday, the US Court of Appeals for the 9th Circuit refused to reinstate the ban, which had been suspended by a lower judge. The case is likely to be appealed until it reaches the Supreme Court.
You can share this story on social media: