Decades of disaster: 7 of America's worst dam failures in recent history (VIDEO)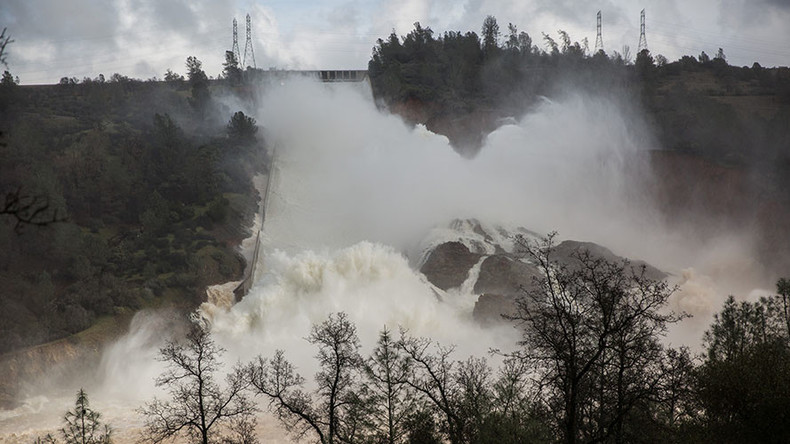 While modern technology ensures safety standards are maintained at the 80,000 dams across the US, extreme weather and maintenance issues have resulted in some serious dam failures over the past four decades.
On Sunday, an urgent evacuation order was issued for 200,000 people living in northern California amid fears of an imminent collapse of the nearby Oroville Dam spillway.
READ MORE: Spillway at tallest US dam in California about to collapse, tens of thousands evacuate
Oroville, America's tallest dam, remains intact but the emergency spillway, which helps prevent water from overflowing when levels are high, is eroding. Heavy rainfall has filled the dam to the verge of overflow, posing a huge potential risk to downstream communities.
Here, RT.com takes a look back at some of the most deadly dam failures in recent US history.
March, 2006: Seven people died in Kauai, Hawaii when the Ka Loko Reservoir Dam burst, unleashing 400 million gallons of water onto the island. The dam's poor maintenance, lack of inspection and illegal modifications were blamed for its failure.
November, 1977: 39 people were killed when the Kelly Barnes Dam failed in Stephens County, Georgia after heavy rainfall. A combination of factors including erosion and landslides were blamed for the failure, which caused $2.8 million in damage, and the dam was never rebuilt.
July, 1977: The most infamous US dam disaster in recent memory killed 86 people in Johnstown, Pennsylvania when heavy rainfall and flooding resulted in six area dams failing. This was the second dam failure to hit Johnstown – 2,209 were killed after a flood in 1889.
June, 1976: The Teton Dam released 300,000 acre-feet of water when it failed abruptly in Northeast Idaho, killing 11 people and causing more than $1 billion of damage.
June, 1964: The worst flood in Montana's history killed 28 people after the Swift Dam and two lower dams failed, releasing around 46,000 acre-feet of water.
March, 1963: Six people died and more than $6 million in damage was caused followed the Spaulding Pond Dam failure in Mohegan Park, Norwich, Connecticut. A lack of proper hydrologic design, poor maintenance and a lack of understanding regarding the potential impacts of a dam failure on the town were cited as causes for the disaster.
Dec, 1963: Five people were killed and 27 injured in Los Angeles after the Baldwin Hills Reservoir suffered a serious leak through its east abutment, breaching the dam and releasing a total of 250 million gallons of water.
You can share this story on social media: