Elon Musk condemns 'morally outrageous' pro-union agitation at Tesla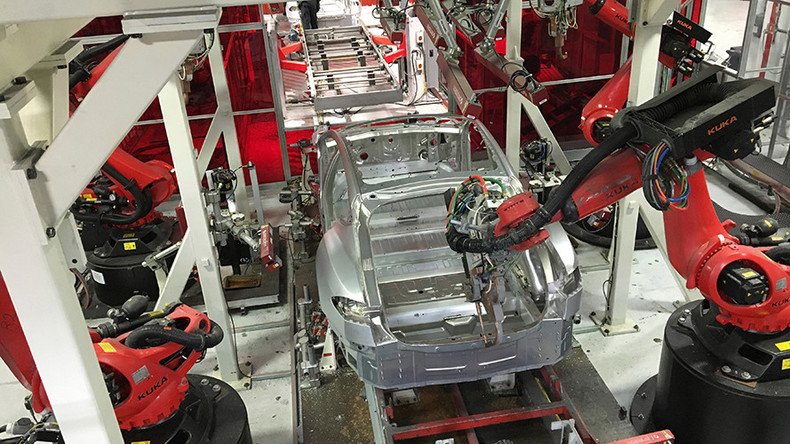 A man identifying as a Tesla employee claims that workers are seeking union help to improve hazardous work conditions, long hours and low wages. CEO Elon Musk denies the man's credibility and claims he works for the unions.
On Thursday, a man going by the name Jose Moran posted an article on Medium titled, "Time for Tesla to Listen." In the post, the author claims to be a "proud" employee for the past four years at the Fremont plant, where all the Tesla cars are currently made.
Moran claims that most of the 5,000 non-union employees at the plant work "excessive mandatory overtime" and put in a 60- to 70-hour week, and only earn between $17 and $21 an hour, while the average motor vehicle manufacturer earns $25.58 an hour.
"The issues go much deeper than just fair pay. Injuries, poor morale, unfair promotions, high turnover, and other issues aren't just bad for workers — they also impact the quality and speed of production. They can't be resolved without workers having a voice and being included in the process," Moran wrote.
In the post, Moran calls for workers at the plant to unionize, and claims to have already reached out to the United Auto Workers (UAW) for support. The post claims that Tesla then attempted to silence employees from speaking out about the conditions by forcing them to sign a confidentiality agreement that "threatens consequences if we exercise our right to speak out about wages and working conditions."
Five members of the California Assembly sent a letter to Elon Musk in January, asking him to revise the language of the policy, which they claim violates employee rights under the National Labor Relations Act (NLRA).
Specifically, the letter points to confidentiality rules that Tesla is breaking which give employees the right to "discuss wages, hours, and other terms and conditions of employment with fellow employees, as well as with nonemployees, such as union representatives."
Tesla General Counsel Todd Maron responded to the Assembly with a letter stating that employees were given the confidentiality agreement after "a rash of unauthorized leaks to the press and social media about product launches, specifications, and improvements."
Musk, the founder of Tesla, also responded to the claims in a series of private tweets to Gizmodo, in which he says Moran is not an employee at Tesla, but an agitator working for the UAW.
"Our understanding is that this guy was paid by the UAW to join Tesla and agitate for a union. He doesn't really work for us, he works for the UAW," Musk said, according to Gizmodo.
"Frankly, I find this attack to be morally outrageous. Tesla is the last car company left in California, because costs are so high. The UAW killed NUMMI and abandoned the workers at our Fremont plant in 2010. They have no leg to stand on," Musk added in a separate response.
In response to claims Moran made about low wages, Musk stated that Tesla offers employees a higher starting wage than those unionized in the UAW, and stated that "total compensation is higher for a given level of seniority when factoring in stock grants."
Musk also allegedly responded to claims of long hours, saying, "There is sometimes mandatory overtime if we are trying to make up for a production stoppage, but it is dropping almost every week," he said.
You can share this story on social media: