146 anti-Trump protesters indicted for rioting on Inauguration Day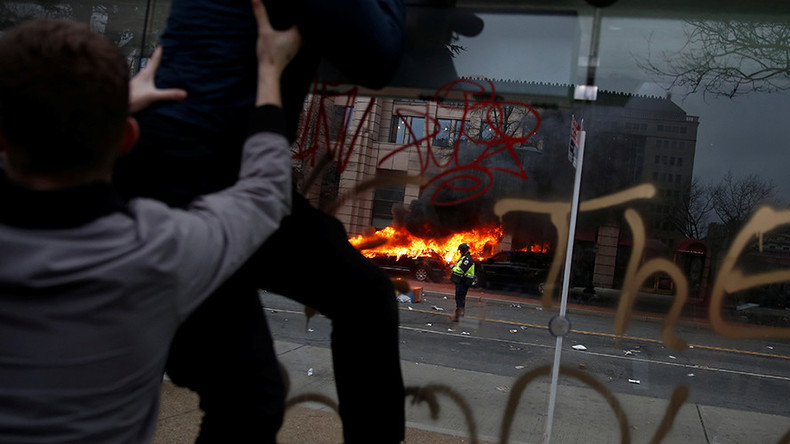 The US Attorney's Office in DC says 146 more people face felony charges related to violence during inaugural protests. So far, 209 people have been indicted for incidents related to Inauguration Day in Washington, DC.
Mass arrests occurred on Inauguration Day when protests in Washington, DC turned violent, resulting in 290 people being led away in handcuffs. Of the nearly 300, 209 people are facing a maximum of 10 years in jail and a fine of up to $25,000 for felony rioting charges.
On Thursday, an additional 146 people were charged with rioting, according to a press release from the US Attorney's Office in DC. So far, 12 cases have been dismissed. Six of the dismissed charges were against journalists who were covering the protests, including RT reporter Alex Rubinstein.
Taking the alleged rioters to court could prove difficult, due to the scope of the arrests. Earlier this month, the Washington Post reported that investigators were still reviewing evidence and footage but had subpoenaed suspected rioters' Facebook accounts.
Defense attorney Jason Flores-Williams told the Post that three of his clients received notifications from Facebook that their accounts had been subpoenaed.
"This violates their rights. And what does that have to do with the case?" Flores-Williams said. "It's broad and overreaching."
"[The investigators are] just trying to intimidate people and scare them," he added.
Other defense attorneys claim that clients had been charged with rioting without any prosecutors being able to identify any actions taken by the accused.
You can share this story on social media: