Swastika takedown: New York subway riders tackle Nazi symbols on train (PHOTOS)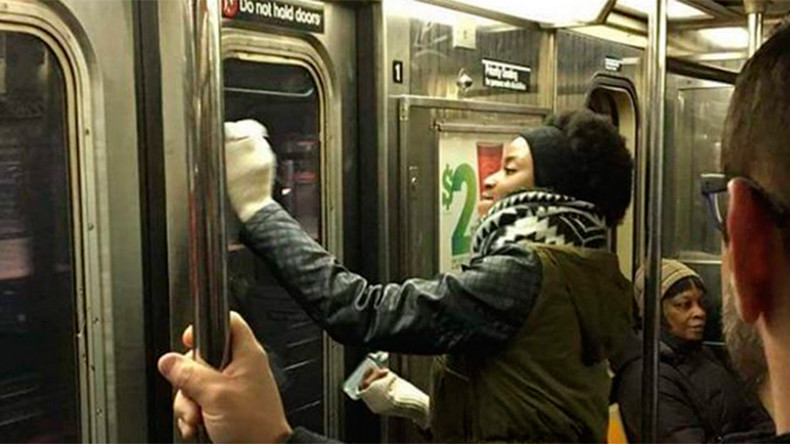 New York subway riders have banded together to remove Nazi swastika symbols scrawled across a Manhattan train after the city's transit system was once again defaced with anti-Semitic graffiti.
The latest incident was documented by New Yorker Gregory Locke in a Facebook post Saturday night, after he was met by the racist scrawlings when boarding the subway in Manhattan.
Locke described how, following a moment of uncomfortable silence, one passenger made a call for hand sanitizer to remove the ink, and passengers worked together to remove the hateful comments.
The graffiti was plastered across every window and advertisement, according to Locke.
"I've never seen so many people simultaneously reach into their bags and pockets looking for tissues and Purel. Within about two minutes, all the Nazi symbolism was gone," he wrote.
The Facebook post has been shared over 120,000 times, as fellow New Yorkers commended the subway riders for their actions.
The New York City subway has been the target of anti-Semitic graffiti on a number of occasions in recent months.
A woman was verbally abused by a man on the subway in Manhattan last week with a tirade of anti-Semitic slurs, according to the New York Daily News. Two passengers intervened, and the man fled.
READ MORE: Anti-Semitic hate crimes reach 'record high' in UK

Earlier this month, a poster for a Jewish museum posted in a subway station was defaced with swastikas, prompting city council members to denounce the graffiti.
In November, swastikas and a series of racist, homophobic, and anti-Obama statements were found scrawled on the walls and door of a subway car. KKK fliers and business cards were also reportedly distributed on some services.
New York Governor Andrew Cuomo issued a statement in December condemning hate crimes on the NYC subway, after a Muslim New York City Transit employee was assaulted by a male passenger on her way to work.
You can share this story on social media: