Bodegas boycott: Yemeni-owned NYC corner stores protest Trump's Muslim ban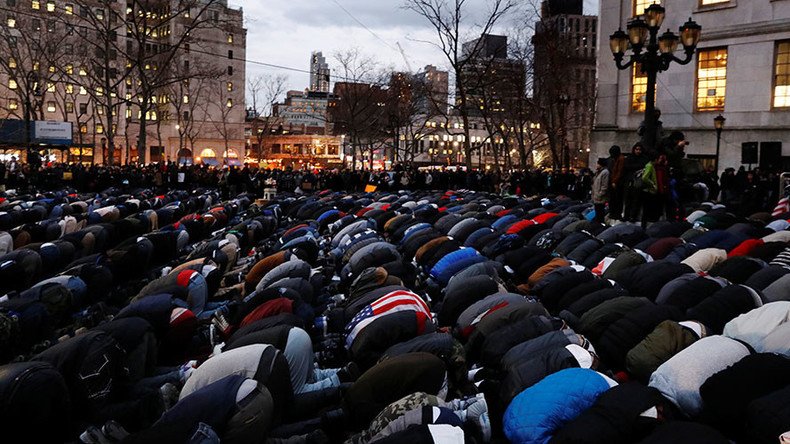 New York City is facing an economic nightmare the size of the Stay Puft Marshmallow Man: Many of the city's ubiquitous corner stores, called bodegas, have shuttered in protest of President Donald Trump's executive order against some Muslim immigrants.
The protest was expected to last from noon until 8pm local time.
"Initially I suggested they close from 8am to 8pm, but many did not want to disrupt the lives of the very people they serve daily who buy coffee in the morning or children that buy snacks on the way to school," organizer Debbie Almontaser told the New York Daily News.
"We're trying to send the message that we are part of this community, we are part of this country, and we put in work just like everybody else," Brooklyn deli worker Salim Alnemari told Gothamist ahead of the strike. "We pay taxes. We are trying to say we are needed here, like everybody else."
Around a thousand bodegas and corner grocers owned by Yemeni immigrants temporarily closed their stores on Thursday.
"This shutdown of grocery stores and bodegas will be a public show of the vital role these grocers and their families play in New York's economic and social fabric,"according to the event's Facebook page.
They are protesting Trump's executive order from last Friday that banned citizens from Yemen and six other Muslim-majority countries from entering the US. The rollout of the executive order caused mass confusion, deportations and protests.
READ MORE: 'Let them in': Hundreds protest at JFK airport after Trump's 'Muslim ban' (PHOTOS, VIDEOS)
"Some people, they are citizens and they have two or three of their children who are citizens, but if they have one family member on a visa they can all get stuck outside" of the US, Nabil Ahmed Aljomai, who closed his three stores in the Bronx, told the New York Times. He immigrated to the US in 1992, and he and his eight children are citizens.
"We are trying to tell Mr. Trump that America is the greatest and we want to keep it the greatest in the American way, not in his way," Aljomai said. "His decision is racist and he's not supposed to make a decision like that."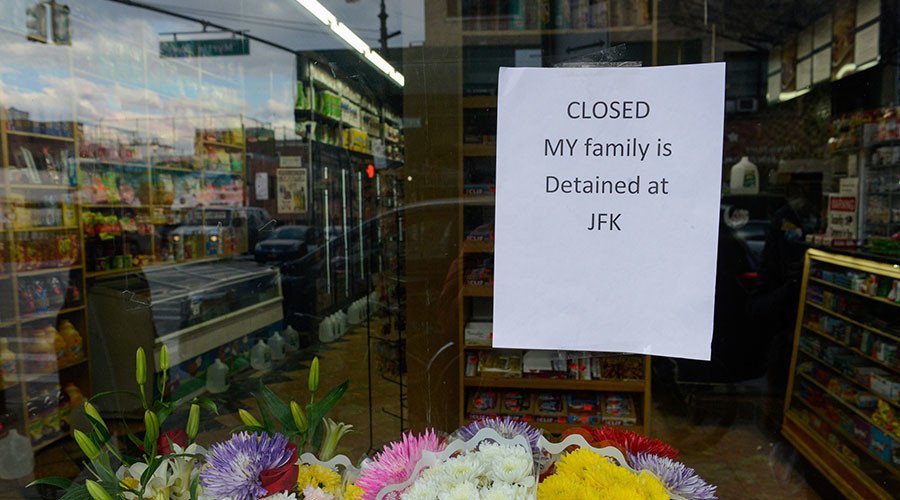 "It's not right… everybody is sad. The American people too," Abdo Saeed, a 34-year-old American citizen who manages Yemen King Deli and Grocery in Manhattan's East Harlem neighborhood, told the New York Daily News. "If everybody goes out, maybe he'll listen. Maybe he'll change."
The proprietors also held a rally outside Brooklyn Borough Hall, which drew thousands of people. The event began with a call to prayer, followed by store owners sharing stories about how the ban has affected them and their families, as well as those too afraid to come forward.
At the rally, people chanted, "No ban! No wall! USA for all!"
"We have to fight, we have to stand up," Adnan Alshabbi, a bodega owner in the Bronx, told WNBC.
In 2012, there were about 13,000 bodegas throughout the city, Time reported then.
You can share this story on social media: