'Nonsense & downright lie:' Mexico denies Trump threatened to send troops against 'bad hombres'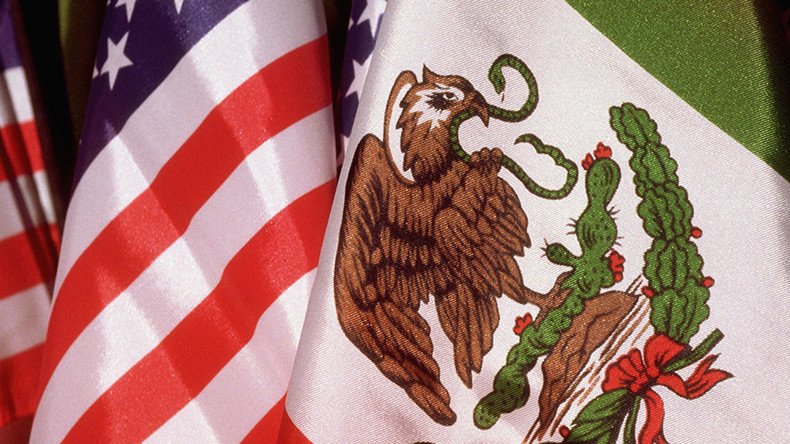 After the AP and Mexican media reported that Trump had threatened to send the US military to chase "bad hombres" out of Mexico in a phone call with Mexican President Enrique Peña Nieto, the Mexican government has slammed the claim as "a downright lie."
The statement "did not happen during that call," the Mexican government said on Twitter.
"I know it with absolute certainty, there was no threat. The things that have been said are nonsense and a downright lie," Peña Nieto's spokesman, Eduardo Sanchez, said in a radio interview.
Mexico's foreign relations department slammed the report, saying its allegations were "based on absolute falsehoods" and "do not correspond to the reality at all."
"The tone was constructive and it was agreed by the presidents to continue working and that the teams will continue to meet frequently to construct an agreement that is positive for Mexico and for the United States," the department added, as cited by AP.
The White House has refused to comment, instead pointing to a joint statement regarding the call that appeared on Friday.
The two leaders reportedly spoke about the need to "work together to stop drug cartels, drug trafficking and illegal guns and arms sales."
At a press conference with UK Prime Minister Theresa May last week, Trump also described his call with Pena Nieto as "friendly."
A few hours before the statement from the Mexican government was released, the AP and a Mexican news website called Aristegui Noticias reported that Trump had mentioned the possibility of sending US troops to Mexico to stop "bad hombres down there."
The media outlets cited an excerpt of an alleged transcript of the phone call that they claim they had obtained.
"You have a bunch of bad hombres down there," AP cited Trump as saying.
"You aren't doing enough to stop them. I think your military is scared. Our military isn't, so I just might send them down to take care of it," the US president allegedly added
This isn't the first time Trump is reported to have used the term "bad hombres." During a presidential debate in October, he pledged to eradicate "drug lords" and "bad people," saying "we have some bad hombres here, and we're going to get them out."
The term has been viral ever since, inciting immense uproar, both on- and offline.
I hear the bathrooms in Trump Tower are being relabeled "Bad Hombres" and "Nasty Women."

— George Takei (@GeorgeTakei) October 20, 2016
Tensions between the US and Mexico have escalated since Trump once again raised the issue of building a wall between the two countries – at Mexico's expense.
Afterwards, Pena Nieto canceled his trip to the US that had been scheduled for January 31, while Trump said he would be unable to visit Mexico if its leadership refuses to pay for the wall.
Adding fuel to the fire, last week, the White House suggested imposing a 20 percent tax on imports from Mexico in order to finance the wall. The countries carry out some $1.6 billion in cross-border trade daily.
You can share this story on social media: