#JumpAgainstTrump: NY priest says meme calling on Trump protesters to kill themselves was a joke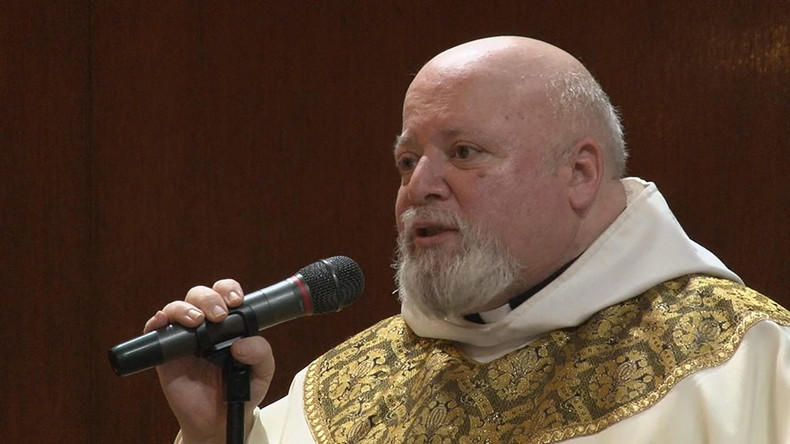 A pro-Trump priest in New York City says he was joking when he shared a meme that showed a man plummeting from a skyscraper along with the slogan "show your hate for Trump".
Fr. Philip Pizzo, 67, who practices in the Diocese of Brooklyn, posted the #JumpAgainstTrump meme on his personal Facebook page Sunday, said he thought the slogan was "funny" and insisted it was not intended to promote suicide.
"I do not promote suicide,'' said Pizzo to the NY Post. "I've helped many people over the years, and it does not promote suicide. It was funny."
Following a barrage of hate from parishioners and the public, Pizzo posted an apology on Facebook Tuesday, explaining that he regrets posting the "completely inappropriate" meme.
"I apologize for the hurt that I have caused over a Facebook post," he reportedly wrote.
"I never intended it to get this kind of reaction and I regret posting it. I have been a priest for 40 years and my goal has always been to bring Christ to the people. I am pro-life and any reference to suicide is contrary to my beliefs, therefore, making my post completely inappropriate. Again, please accept my sincerest apology."
READ MORE: Drink or boycott? Starbucks coffee war erupts on Twitter over US immigration policy
Fr. Pizzo has shared similar political sentiments on his Facebook page in the past, reports the AP, including a photo of President Obama with the words "He's not my president" and a picture of Hillary Clinton titled "Ugly Face" and "Happy Halloween".
.@FatherPizzo regrets any offense he has caused. Suicide is a serious subject and his post does not at all represent the view of the church.

— Diocese of Brooklyn (@BrooklynDiocese) January 31, 2017
The Diocese of Brooklyn said the post does not reflect the church's stance and it has been removed.
You can share this story on social media: