Protest 'a mess': Trump slams Democrat leadership in tweet (VIDEO)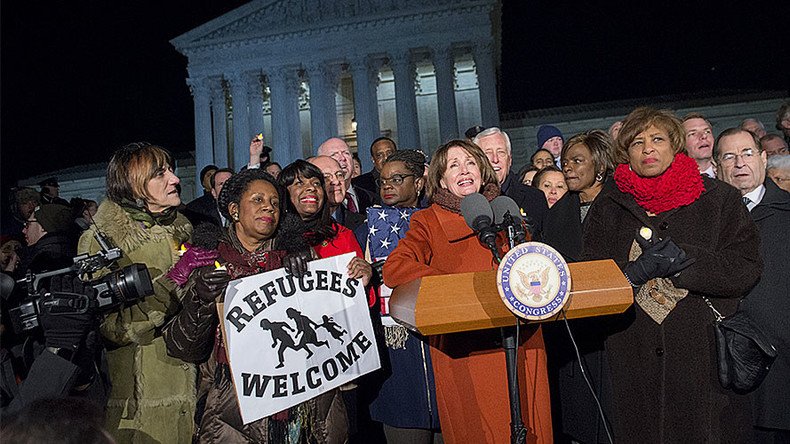 President Donald Trump took to Twitter to mock Democrats for technical failures during a rally outside the Supreme Court protesting his executive order temporarily banning people entering the US from seven Muslim-majority nations.
Trump rediculed Democrats early Tuesday for their Monday night protest at the Supreme Court, saying it was a "mess." "Nancy Pelosi and Fake Tears Chuck Schumer held a rally at the steps of The Supreme Court and mic did not work (a mess)-just like Dem party!" Trump tweeted.
Nancy Pelosi and Fake Tears Chuck Schumer held a rally at the steps of The Supreme Court and mic did not work (a mess)-just like Dem party!

— Donald J. Trump (@realDonaldTrump) January 31, 2017
Congressional Democrats rallied Monday evening outside the US Supreme Court in Washington, DC with thousands of protesters urging Trump to rescind his executive order.
The Democrat's protest led by Senator Charles Schumer (D-New York) and Representative Nancy Pelosi (D-California), was hampered by a malfunctioning microphone.
Democrats quickly responded, arguing the president should stop name calling.
Matt House, a spokesman for Senate Minority Leader Schumer, said Trump should learn that name calling is not going to solve the self-inflicted problems of the Trump administration.
Schumer responds to Trump tweet: "Name calling is not going to solve the many problems this administration has already brought upon itself." pic.twitter.com/GjOWdo5O3F

— Kyle Griffin (@kylegriffin1) January 31, 2017
House said Trump should repeal the executive order halting the entire US refugee program and banning all entries from seven Muslim-majority nations for 90 days.
"The mic briefly didn't work, but this thin-skinned President clearly heard the voices of the more than 250 Members of Congress and thousands of others who gathered outside the Supreme Court last night," Drew Hammill, a spokesman for Pelosi, said in a statement on Tuesday. "The President's immoral executive order is clearly unconstitutional – no matter how many times he tweets or how many Administration officials he fires."
Pelosi told the crowd at the rally, "Democrats and many of our Republican colleagues agree that what the president did undermines our values, and is not in support of the Oath of Office that we take to support and defend the Constitution of the United States."
Realizing the microphone wasn't working, lawmakers broke into an impromptu rendition of Woody Guthrie's famous folk song,"This Land is Your Land," before turning to a bullhorn to address the crowd.
Representative Jerrold Nadler (D- New York) who protested at JFK on Saturday when the effect of the executive order became known, joined Pelosi at the rally.
"When the president signed his dangerously stupid executive order on Friday I knew that it was unconstitutional, discriminatory and morally reprehensible," said Nadler. "What I did not know that people all over this country would join together so quickly to fight this outrageous policy and to assist those in need. That gives me great hope that this country can overcome this dark time."
The Hill reported thousands of protesters attended the rally - many, federal workers who came after work.
Police attempted to keep First Street NE open to traffic, but soon gave up as the crowd filled the road between the court and the Capitol.
You can share this story on social media: