Democrats boycott committee votes for Health & Treasury secretaries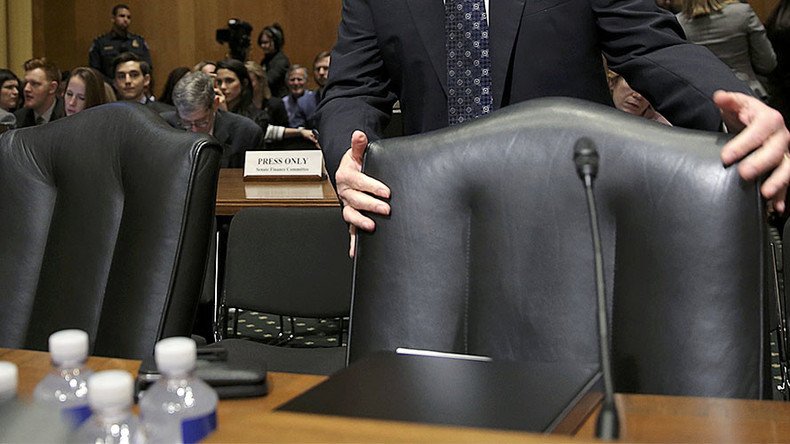 Senate Democrats refused to attend Finance Committee sessions to vote on the nominations of Health and Human Services Secretary Tom Price and Treasury Secretary Steven Mnuchin.
The move means the committees cannot vote on the nominations and advance them to the full Senate for final approval. Under Senate rules, at least one member of the minority party needs to be present for the committee votes to be valid.
"I'm very disappointed in this kind of crap. … Some of this is because they just don't like the president," said Chairman Orrin Hatch (R-Utah). "I don't want to hear from any of them again about doing our jobs. We're here, they're not."
"It really is stupid, amazingly stupid" of the Democrats not to show up, Hatch said, adding that he fully intends the vote to occur.
Meanwhile, the Judiciary Committee was unable to vote on Senator Jeff Sessions (R-Alabama) to serve as attorney general, as lengthy speeches and absence of a quorum ran out the clock. The committee will reconvene on Wednesday.
On the other hand, the Senate easily confirmed Elaine Chao as transportation secretary with a 93-6 vote.
Earlier on Tuesday, the Energy and Natural Resources Committee voted 16 to 6 to advance the nomination of Ryan Zinke for secretary of interior and 16-7 in favor of Rick Perry's nomination to head the Department of Energy.
Republicans have resorted to committee boycotts in the past to delay some of President Barack Obama's nominations.
In May 2013, Gina McCarthy's nomination to lead the Environmental Protection Agency was delayed by a Republican boycott of the Senate Environment Committee. The Obama White House called it "a historic level of obstructionism."
A month later, Republicans also boycotted a committee vote on Alejandro Mayorkas to be deputy secretary of homeland security, citing an inspector-general probe into questionable visa approvals for a foreign company linked to Hillary Clinton's brother and Terry McAuliffe, former DNC chairman.
Both appointees were eventually approved – McCarthy in July and Mayorkas in December 2013.
You can share this story on social media: