AG nominee Sessions faces committee vote amid travel ban turmoil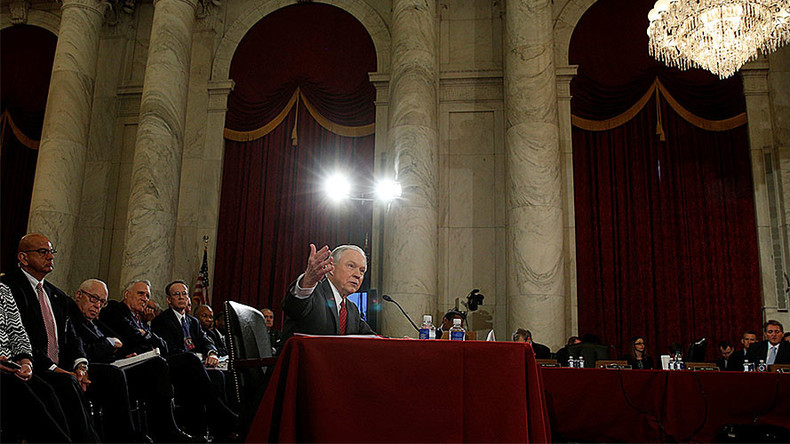 The Senate Judiciary Committee met to vote on confirming Jeff Sessions as the next US attorney general. The senator from Alabama still faces a vote before the full Senate, amid turmoil in the Justice Department over enforcing President Donald Trump's travel ban.
Sessions' appointment was controversial to begin with, plagued with accusations of racism from the 1980s that cost him the post of a federal judge. It became even more so following Trump's executive order imposing a temporary entry ban on nationals of seven Muslim-majority countries.
On Monday, Trump dismissed acting attorney general Sally Yates, who was appointed by the Obama administration – when she refused to enforce the order.
White House spokesman Sean Spicer called Yates' refusal to obey a legal order "bewildering as well as defiant." He rejected insinuations from reporters that her dismissal was "chilling" on Trump's Cabinet members. Their job is to implement the president's agenda, he said. "If they don't like it, they shouldn't take the job."
Democrats on the committee spent much of their time praising Yates and holding her up in contrast to Sessions.
"No Cabinet member has a greater impact on day-to-day lives of Americans than the attorney general," said Richard Blumenthal (D-Connecticut). "This job requires a singular level of integrity and a nonpartisan devotion to the rule of law."
Senator Chris Coons (D-Delaware) called Sessions' record and positions on torture, civil liberties, immigration, and criminal justice reform "deeply concerning." He even read excerpts from the letter by Martin Luther King Jr.'s widow Coretta, which was brought up in 1986 to torpedo Sessions' nomination for federal judgeship. It was not entered into congressional record on that occasion, and it was unclear whether it would be now.
"I hope our Democratic colleagues they get past their anger and accept the verdict of the American people" that got Trump elected, said Senate Majority Whip John Cornyn (R-Texas), urging Democrats to come to terms with the new administration.
Senator Jeff Flake (R-Arizona) kept it short, saying Sessions "is qualified and he is a good man."
Though a vocal critic of President Trump, Senator Lindsey Graham (R-South Carolina) voiced his support for Sessions as attorney general. He was interrupted by a protester, who was removed of the chamber.
After more than three hours into the hearing, at 12:45pm, Chairman Chuck Grassley (R-Iowa) noticed there wasn't a quorum and instructed the senators to attend the floor vote for Elaine Chao's nomination to head the Department of Transportation.
It was the second time in half an hour that fewer than six senators were present at the hearing; the first lack of quorum was noted at 12:15, just as Coons started speaking.
"If people in the majority don't know the importance of this meeting, then how can we expect the minority to?" Grassley grumbled.
The meeting adjourned at 2pm local time, after lengthy speeches by Senators Mazie Hirono (D-Hawaii) and Ted Cruz (R-Texas).
With the Democrats invoking the two-hour rule to run out the clock, Grassley scheduled the continuation for Wednesday at 10:30am, with a vote possibly coming after another 45 minutes of debate claimed by Senators Sheldon Whitehouse (D-Rhode Island) and Al Franken (D-Minnesota).
You can share this story on social media: