DoD seeking to exempt Iraqi F-16 trainees from Trump's US travel ban – report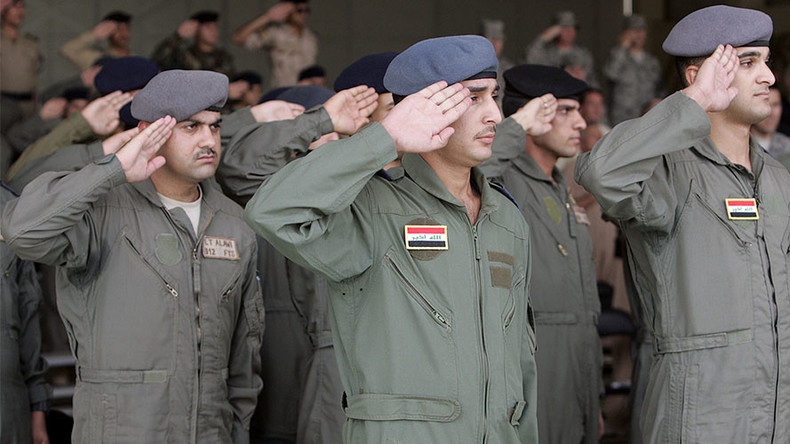 The DoD is reportedly seeking to exempt Iraqi Air Force pilots trained at US facilities from President Trump's so-called 'Muslim ban'. It comes as some army veterans argue the ban endangers Iraqis and Afghans who once fought alongside the US troops.
The US military was working on an emergency scheme allowing dozens of Iraqi F-16 pilots to continue their training at Arizona National Guard facilities, a Pentagon official told the Air Force Times on Monday.
The official said that the department was working on an exemption allowing Iraqis to continue traveling to the US to learn to fly F-16s. The Washington Examiner also reported that a possible exemption was being discussed.
"We are working closely with our State Department and Homeland Security Department counterparts to determine the practical effect of the executive order," the official said. "The high importance we place on the Iraqi-US relationship has not changed. Working by, with and through the government of Iraq to defeat ISIS [Islamic State or IS] in Iraq is still among our top priorities as a department and as a government."
According to Arizona National Guard as cited by the Air Force Times, around 30 Iraqi rookie pilots are learning to fly the F-16 at their facilities.
Navy Captain Jeff Davis, Pentagon spokesman, added that the Iraqi pilots may travel to the US on a different type of visa not affected by Trump's executive order. The order, signed earlier this week, applies to nationals of seven Muslim-majority countries, including Iraq, and bans their entry to the US for 90 days.
"There are a number of people in Iraq who have worked for us in a partnership role, whether fighting alongside us or working as translators, often doing so at great peril to themselves," Davis was quoted by the Washington Post. He also added that the Pentagon was compiling a list of Iraqi nationals who have fought alongside the Americans abroad to ensure their right to settle in the United States.
Davis repeatedly refused to say whether or not Defense Secretary James Mattis, a retired Marine General who served in Iraq, was behind the initiative to compile the list. Last July, before the US election, he told Politico in an interview that Trump's campaign calls for a ban on immigration from Muslim-majority countries would cause "great damage right now, and it's sending shock waves through this international system."
Mattis' previous remarks sit well with current views of some military veterans who voice frustration over the Trump's travel ban.
"Not only is this executive order a death sentence for Iraqis and Afghans who have served faithfully alongside US troops, but it feels like a death sentence for our service members who are in the Middle East," former Army Capt. Matt Zeller told the Military Times.
Afghanistan is not affected by the travel ban, but the 120-day suspension of the refugee program that is also included in the executive order does have an impact on former Afghan military interpreters. Army Capt. Matthew Ball, whose Afghan interpreter Qismat Amin obtained his refugee visa only after four years of vetting, told the newspaper, "The ban is terrible. It's terrible for what it says about our country. It's terrible for what it says to our allies who we fight with overseas.
"It's terrible for what it does to real people, struggling to flee terrorism in their home countries, who now have nowhere to go," Ball added.
You can share this story on social media: